Thomas Nelson announces release of "The Vines Expository Bible" with Dr. Jerry Vines
Experience a guided journey through Scripture 
with 
Pastor Jerry Vines in The Vines Expository Bible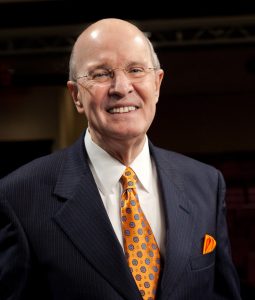 Nashville, Tenn., March 22, 2018 – Thomas Nelson is pleased to announce the release of The Vines Expository Bible with Dr. Jerry Vines. Featuring the beautiful and faithful NKJV™ translation, The Vines Expository Bible provides the opportunity for readers to be mentored by Dr. Vines' wise Scriptural insights.
Delivered in Dr. Vines' characteristically warm style, each page helps readers build their understanding of the Bible. Based on a lifetime of sermons and lessons from his faithful ministry, The Vines Expository Biblebrims with biblical exposition, practical teaching, illustrations, principles, and translations insights, offering scriptural truth alongside guided explanations of key passages.
"Like a good sermon, The Vines Expository Bible makes Scripture accessible and applicable," says Daniel Marrs, associate publisher, Thomas Nelson Bible Group. "Dr. Vines is famous for his warm and pastoral tone, and we think that readers will find that this Bible will lead them on a journey that will bring them into direct contact with Scripture's message for their lives."
Features of The Vines Expository Bible include:
200 "Presenting the Message" detailed outlines from Jerry Vines' sermon archive

100 "Living the Message" articles with illustrations for living the Christian life

200 "Applying the Message" notes that help you see the relevance of Scriptures for your walk with Christ

300 "Discerning the Meaning" word studies that illuminate the meaning of key words in Scripture

66 Book Introductions

NKJV paragraph-style text with in-text subject headings

Topical Index

NKJV Concordance

10.5-point print size
Product formats available 

March 27, 2018

:
ISBN 9780718098513, Cloth over Board, 1,984 pages, $44.99

ISBN 9780718098582, Imitation Leather, Black, 1,984 pages, $69.99

ISBN 9780718098599, Imitation Leather, Brown, 1,984 pages, $69.99

ISBN 9780718098568, Imitation Leather, Purple, 1,984 pages, $69.99

ISBN 9780718098612, Bonded Leather, Black, 1,984 pages, $74.99

ISBN 9780718098629, Bonded Leather, Burgundy, 1,984 pages, $74.99

ISBN 9780718098650, Genuine Leather, Black, 1,984 pages, $94.99

ISBN 9780718098636, Ebook, 1,984 pages, $35.99
For reprint permission, review copies, or to request an interview with Dr. Vines, contact Trinity McFadden at trinity.mcfadden@harpercollins.com or 616-698-3514.
About Dr. Jerry Vines:  Dr. Jerry Vines has been a Baptist pastor and preacher for over 60 years, working to win people to Christ and to help those who know Christ grow in their Christian lives. A native of Carrollton, Georgia, Pastor Vines was educated at Mercer University (BA), New Orleans Theological Seminary (BD), and Luther Rice Seminary (ThD). He pastored the First Baptist Church in Jacksonville, Florida for 24 years until retiring in 2006, and while there also served two terms as President of the Southern Baptist Convention, from 1988-1989. Pastor Vines is a year-round Alabama football fan, and is working on his PhD at Southwestern Baptist Theological Seminary for fun in his retirement. He and his wife, Janet, have four children and seven grandchildren.
About the NKJV™:  Commissioned in 1975 by Thomas Nelson Publishers, 130 respected Bible scholars, church leaders, and lay Christians worked for seven years to create a completely new, modern translation of Scripture, yet one that would retain the purity and stylistic beauty of the original King James. With unyielding faithfulness to the original Greek, Hebrew, and Aramaic texts, the NKJV translation applies the most recent research in archaeology, linguistics, and textual studies.
About Thomas Nelson:  Thomas Nelson is a world leading publisher and provider of Christian content and has been providing readers with quality inspirational product for more than 200 years. As part of HarperCollins Christian Publishing, Inc., the publishing group provides multiple formats of award-winning Bibles, books, gift books, cookbooks, curriculum and digital content, with distribution of its products in more than 100 countries. Thomas Nelson, is headquartered in Nashville, TN. For additional information visit www.thomasnelson.com.
Contact: Trinity McFadden, Senior Manager of Publicity
web: trinity.mcfadden@harpercollins.com  tel: 616-698-3514
---
Praise for The Vines Expository Bible:
"Jerry Vines knows God's word like few people I know and has spent a lifetime of study and preparation to proclaim its Truth. This is a classic and will bless students of the Bible for generations to come."
—Dr. Jack Graham; PowerPoint Ministries
"As pastors, it is our mission and calling to explain the beauty, the grace, and the challenge of the Bible, to help our congregations see Christ more clearly. Jerry Vines' truly God-given talent for making the meaning of Scripture accessible is a precious gift for any Christian seeking God through His Word."
—Dr. Robert Jeffress; pastor of First Baptist Church, Dallas, Texas; host of Pathway to Victory
"Creative, practical, applicable, but never anything less than true to the actual text of Scripture, has been the hallmark of this unparalleled pulpit virtuoso. . . . I love Dr. Vines and I'm so glad he's opened up his vault of knowledge for all of us."
—
Mike Huckabee
; former Governor of Arkansas"From the cradle to the grave, the Bible is God's roadmap for life. To understand and apply its teachings, one needs a skilled guide. Read and apply this study Bible daily, and you will not go astray.
—
Steve Gaines
, PhD; pastor, Bellevue Baptist Church, Memphis, Tennessee; president of the Southern Baptist Convention
"James 1:22 exhorts each of us to be doers of the Word, not hearers only. Dr. Jerry Vines, with the heart of a pastor, enables us to practice James1:22, with his own unique expository style. With this work, Pastor Vines is like another Phillip who guided the Ethiopian eunuch in Acts 8 to an understanding of salvation."
—Sonny Perdue; Secretary of Agriculture; former Governor of Georgia
"Jerry Vines has the rare ability to possess the passion of a prophet and the erudition of a scholar, and it's been a big influence on shaping my own approach to the pulpit. It's good to see many of his insights and life-changing approaches to text captured in this one helpful resource."
—Dr. J.D. Greear; author and pastor of The Summit Church, Raleigh-Durham, North Carolina
"Having known and loved Dr. Jerry Vines for decades, I am blessed to see the fruit of thousands and thousands of hours of personal devotion and Bible study… Only God knows how many believers in the coming years and decades will be built up and encouraged in the faith for having studied God's Word with this amazing tool."
—Dr. O. S. Hawkins; former pastor of First Baptist Church, Dallas, Texas; author of the Joshua Code series