"The Swindoll Study Bible NLT" wins
Christian Book Award® for Bibles
Win Marks 13th ECPA Award for Chuck Swindoll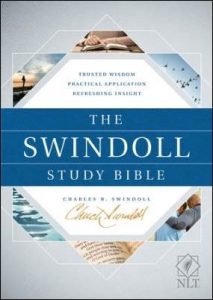 CAROL STREAM, ILL. (May 9, 2018) –Tyndale House Publishers (@tyndalehouse) is pleased to announce that The Swindoll Study Bible NLT has been recognized as the Evangelical Christian Publishing Association (ECPA) 2018 Christian Book Award winner in the Bibles category. The win marks the 13th time that Chuck Swindoll, senior pastor at Stonebriar Community Church in Frisco, Texas, and founder of Insight for Living, has captured an ECPA Christian Book Award. The announcement was made at the ECPA Awards Celebration, which was held on May 1 at the Museum of the Bible in Washington DC during the ECPA Leadership Summit.
"We are thrilled to congratulate Pastor Swindoll on winning the Christian Book Award for The Swindoll Study Bible. It really is a testament to his faithfulness and lifelong commitment to providing biblical insight for living," said Kevin O'Brien, Study Bible and Reference Brand Manager.
When informed of the win, Chuck responded, "How wonderful! I am amazed and grateful for this award and truly delighted to think they felt the study Bible was worthy."
A third printing of The Swindoll Study Bible is underway, with new LeatherLike editions and a large print edition releasing this fall.
The Swindoll Study Bible, which released in October 2017, brings the best of Chuck Swindoll's wit, charm, pastoral insight, and wise biblical study directly to you as you study God's Word. Chuck's warm, personal style comes across on every page, and his informed, practical insights get straight to the heart of the Bible's message for the world today. It will both encourage readers' faith and draw them deeper into the study of God's Word.
In Chuck's own words: "This study Bible was designed with you in mind. As you read the Scriptures, imagine my sitting beside you and sharing personal stories, important insights, and hard-earned lessons that will encourage you to walk more closely with Jesus Christ. You'll discover the who, what, where, when, why, and how of the Bible: Who wrote it and when? What does it mean, and where did its events occur? Why should I trust it? And most importantly, how can I apply it today?
"It's that last question more than any other that has fed my passion to publish this Bible. My primary focus in ministry has been teaching biblical insight for living . . . for genuine life change. After all, that's why God has communicated His Word to us—so that we may become like His Son, Jesus Christ, the central figure of this Book."
The Christian Book Award program has recognized the absolute highest quality in Christian books since 1978. Based on excellence in content, literary quality, design, and impact, the Christian Book Award program is the oldest and among the most prestigious awards in the religious publishing industry. ChristianBookAwards.com  @CBAwards #ChristianBookAwards
The Evangelical Christian Publishers Association (ECPA) is an international non-profit trade organization comprised of member companies that are involved in the publishing and distribution of Christian content worldwide. Since 1974, ECPA has strengthened Christian publishing by building networking, information, and advocacy opportunities within the industry and throughout multiple channels so that our members can more effectively produce and deliver transformational Christian content. For more information about ECPA: info@ecpa.org  ECPA.org  @ECPA
Tyndale House Publishers, founded in 1962, is the world's largest privately held Christian publisher of books, Bibles, and digital media. Tyndale has published many New York Times bestsellers. The largest portion of its profit goes to the nonprofit Tyndale House Foundation, which makes grants to help meet the physical and spiritual needs of people around the world. Tyndale was founded to publish Living Letters, which later comprised part of The Living Bible, a contemporary paraphrase of the Bible that became a global publishing phenomenon. Tyndale now publishes the Holy Bible, New Living Translation (NLT), the translation of choice for millions of people.