"The Story" surpasses 5 million milestone
Grand Rapids, Mich., Oct. 2021– Zondervan today announced that The Story, has sold more than 5 million copies across all formats. Originally released in 2005 as a stand-alone Bible project, The Story was developed into a church campaign in 2007.
"We are so proud that The Story has reached and surpassed this sales milestone," said Melinda Bouma, vice president and publisher of Bibles for Zondervan. "But more important than the number of units sold is the number of lives, spanning many generations, that have been impacted. It's gratifying to play a role in bringing God's Word to more than 5 million people through this title, helping people connect the individual stories of the Bible into one continuing Story."
Staff from Zondervan's Bible team, with guidance from several pastors and contributors, condensed the Bible into 21 chapters, sweeping readers into the unfolding progression of characters and events from Genesis to Revelation. The team worked diligently to keep The Story's central focus on the Bible and ensure it would work for all ages and denominations. The Story has been taught all over the world and translated into nearly 20 languages. Key dates include:
2005: The Story launches
2007: The first church campaign editions become available
2011: The Story is updated into the 2011 NIV
2011: Spanish NVI editions are published
2013: KJV and NKJV editions become available
2021: NIV edition updated into Comfort Print®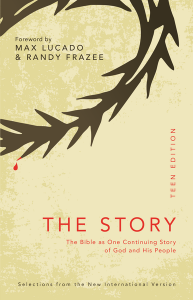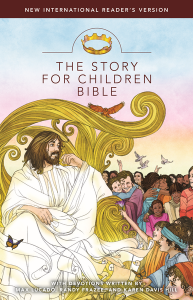 "We've always felt The Story was a special product, and it's been rewarding to see how it has evolved and grown over the years," said Beth Murphy, senior marketing director for ChurchSource and HarperChristian Resources, one of the project's many champions. "Churches of every denomination have been impacted by it because it focuses us on the one thing we can all agree on – that the Bible is central to our faith."
To learn more about the story visit thestory.com.
About Zondervan:
Zondervan, a worldwide leading Christian publisher of books and Bibles, is part of HarperCollins Christian Publishing, Inc. Its publications include a variety of Bible translations for all ages; books in different genres and subject areas for the general reader; curriculum for individual and group Bible study; books for children and young adults; academic resources including textbooks and reference books; ministry resources; and books on faith and culture. Zondervan is located in Grand Rapids, MI. For more information, visit www.zondervan.com.
Contact: Amy Bigler, Senior Public Relations Manager, amy.bigler@harpercollins.com