"The Storm-Tossed Family" by Russell Moore
named Christianity Today's 2019 Book of the Year
Nashville, Tenn (December 11, 2018)–B&H Publishing is proud to announce that "The Storm-Tossed Family: How the Cross Reshapes the Home" by Russell Moore has been named the Christianity Today 2019 Beautiful Orthodoxy Book of the Year. This honor is given to a release "best embodies CT's pursuit of truthfulness and loveliness" and is Moore's second time receiving the award, as "Onward" won in 2016.
"We live in strange times, when some Christians question the value of the family, and others think that devotion to family is the same as devotion to God. Moore refuses to let the conversation remain on the extremes," comments Mark Galli, Christianity Today editor-in-chief. "Moore recognizes that the family is crucial in God's economy, but he doesn't turn it into an idol. He explains persuasively how the church is our first family while giving practical, realistic direction in how to nurture and maintain a healthy, biblical family life, one that reflects the life, death, and resurrection of our Lord. In other words, he tells the truth about what it means to be a biblical family (orthodoxy) and does so in a way that makes the family good news (beautiful)."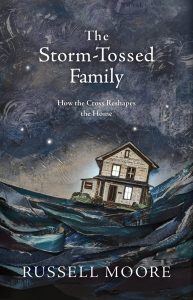 Published in September 2018, "The Storm-Tossed Family" addresses questions such as "why do our families have so much power over us?" and explores how family makes us who we are and how understanding this can liberate us to live without fear.
A longtime pastor, a former professor and provost of the Southern Baptist Theological Seminary and current president of the Southern Baptist Convention's Ethics and Religious Liberty Commission, Moore brings theological insight and pastoral approach to this most sensitive of topics.
"Dr. Moore's work–really, everything he writes–is a rare combination of equal parts truth and beauty," said B&H Trade Books Publisher Devin Maddox. "It's fun to see Dr. Moore receive honor he so richly deserves."
For the complete award announcement and additional judges' comments, click here.
Russell Moore is president of the Ethics & Religious Liberty Commission of the Southern Baptist Convention, the moral and public policy agency of the nation's largest Protestant denomination. He is a frequent cultural commentator, an ethicist and theologian by background and an ordained Southern Baptist minister. Moore is the author of several books, including "Onward: Engaging the Culture without Losing the Gospel." A native Mississippian, he and his wife Maria are the parents of five sons. For more information, visit russellmoore.com.
B&H Publishing Group, an imprint of LifeWay Christian Resources, is a team of mission minded people with a passion for taking God's Word to the world. Because we believe Every Word Matters® we seek to provide intentional, Bible-centered content that positively impacts the hearts and minds of people, inspiring them to build a lifelong relationship with Jesus Christ. Among our print and digital releases for the trade, church, and academic markets, titles include The New York Times No. 1 bestsellers "The Love Dare" and "The Vow," No. 1 CBA bestseller "I Am a Church Member" as well as the newly-revised Christian Standard Bible (CSB) version.