"The Sacred Enneagram" by renowned Enneagram expert Chris Heuertz sells over 100,000 copies
New Interactive Companion Workbook to Release in November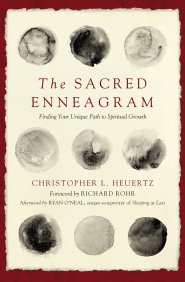 Grand Rapids, Mich. (October 2019) – As the Enneagram continues to grow in popularity, The Sacred Enneagram: Finding Your Unique Path to Spiritual Growth by international accredited instructor, Chris Heuertz has sold more than 100,000 copies since its release in September 2017. Far more than a personality test, Heuertz writes, the Enneagram is a sacred map to the soul. His book enables readers to understand the 'why' behind each Enneagram type and work with their type toward spiritual growth.
"While the Enneagram is undoubtedly trending in 2019, Chris has been learning from the best and developing his own groundbreaking insights in this field for nearly two decades," says Stephanie Smith, Zondervan Books Associate Publisher. "We are thrilled to champion authors such as Chris who draw from so deep a well, and to see the wide resonance of readers who have found in The Sacred Enneagram a trusted guide for their growth journey."
Heuertz was introduced to the Enneagram almost 20 years ago while working in the slums of Cambodia. "That's when the Enneagram found me," he says. His Enneagram journey has been influenced by work of Rohr and other Enneagram experts such as Helen Palmer, and Russ Hudson, as well as contemplative spirituality teachers such as Jean Vanier, Henri Nouwen and Thomas Keating. "More than any other tool, the Enneagram helps us get to the heart of who we really are," Heuertz says.
Heuertz, an activist involved in humanitarian relief and anti-trafficking efforts in addition to his work as an Enneagram teacher, has been mentored by some of the great spiritual masters of our time, including Mother Teresa, with whom he spent time at her community in Calcutta, and his mentor, the Franciscan priest Fr. Richard Rohr.
The Sacred Enneagram has been featured in Magnolia Journal, the Rise Together podcast with Dave and Rachel Hollis and the For the Love podcast with Jen Hatmaker. Enneagram Monthly called The Sacred Enneagram "a breath of fresh air," and the Englewood Review of Books said it has "optimism and hope infused throughout." It has been translated into Korean and Portuguese.
Zondervan is publishing The Sacred Enneagram Workbook, an interactive companion to The Sacred Enneagram in November 2019. The workbook is designed to help readers grow in their spiritual life through understanding their Enneagram type. For review copies and interviews, please contact Robin Barnett at robin.barnett@hapercollins.com.
About The Sacred Enneagram:
Most of us spend a lifetime trying to figure out who we are, and how we relate to others and God. The Enneagram is here to help. Lies about who we think we are keep us trapped in loops of self-defeat. But the Enneagram reveals both the nine ways we get lost, as well as the nine ways we find our way home to our true self and to God. The Sacred Enneagram is their invitation to begin the journey of a life transformed.
About The Sacred Enneagram Workbook:
Whether you are looking to discover your type for the first time or take a deeper dive into your identity, The Sacred Enneagram Workbook is designed to help you grow in your spiritual life through the understanding of your Enneagram type.
The Enneagram offers a bright path to cutting through the internal clutter and finding our way back to who we are created to be. And The Sacred Enneagram Workbook creates the reflective space necessary to map your way home.
In this interactive companion to the bestselling The Sacred Enneagram you will discover:
Where you find yourself in the Enneagram's nine type profiles, and how to make sense of testing results
How to move beyond counterproductive caricatures of your type toward true growth
Tools and practices for breaking out of your greatest emotional, interpersonal, and spiritual challenges
And ultimately, your type's unique invitation and path toward a deeper journey with God
The Sacred Enneagram Workbook: Mapping Your Unique Path to Spiritual Growth
By Chris Heuertz with Estee Zandee
Release Date: Nov 26, 2019
9780310358466
$12.99, 112 pages
Zondervan Books publishes books that ask big questions and bring inspiring insights. Part of HarperCollins Christian Publishing, Inc., the imprint works with gifted writers and communicators who engage readers with books about spiritual and personal growth, everyday living, memoir, family and marriage—topics that fuel life transformation through faith. Zondervan Books' products are sold worldwide and translated into nearly 200 languages. Their offices are located in Grand Rapids, Michigan. For additional information, please visit zondervan.com.
Contact: Robin Barnett, Director of Public Relations, (616) 698-3251, robin.barnett@harpercollins.com