The Navigators and Barna Group release groundbreaking research on making disciples
COLORADO SPRINGS, Colo.—July 8, 2022—The Navigators, a global ministry of Life-to-Life® disciplemaking, has partnered with The Barna Group, a research company specializing in the state of Christianity, to release groundbreaking new insights on how people can share their faith in organic and impactful ways.
"The Navigators motto is 'To know Christ, make him known, and help others do the same®.' The reason for us asking for this research was to figure out what are the obstacles and opportunities in helping others to become a disciplemaker?" said Stephanie Rich, director of marketing and content development for The Navigators. "What we learned is that making disciples in our context is far more achievable than most people think. We're letting people know: 'You have what it takes.'"
The preliminary findings of this research project were released in April 2022 with the result of a guidebook, Growing Together: A Three-Part Guide for Following Jesus and Bringing Friends on the Journey, published by The Barna Group in partnership with The Navigators. This field guide is filled with actionable insights around why disciplemaking can change your life and that you have what it takes to be a disciplemaker. This book is meant to be a guidebook for you to share with others.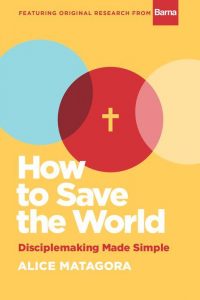 Alice Matagora, program director for the Leader Development Initiative at The Navigators, has written a follow-up book, How to Save the World: Disciplemaking Made Simple, to help everyday people apply the findings of the research to how they practice and share their faith. "If I can make disciples of Jesus, anyone can make them," said Matagora, a licensed marriage and family therapist. "The research shows that the hurdles between us and more transformational faith are more about approach and getting out of our own way than anything."
"These books complement each other well, even though each of them serves a distinct purpose," said David Zimmerman, publisher of NavPress. "If Growing Together is a field guide for your backpack, then How to Save the World is your thoughtful read on an airplane. Growing Together is an engaging discipleship tool. How to Save the World was written to get you in the game."
Growing Together is available now for purchase through The Barna Group. How to Save the World releases in August 2022 and will be available through all trade outlets and at navpress.com.
Information on the "You Have What It Takes" campaign is available at navigators.org.
The NavPress mission is to advance the calling of The Navigators by bringing biblically rooted, culturally relevant, and highly practical products to people who want to know and love Christ more deeply. Through The Message Bible and other insightful resources, NavPress seeks to bring positive spiritual movement to peoples' lives. In January 2014, NavPress entered into an alliance with Tyndale House Publishers to strengthen and better position NavPress and its rich content for the future. NavPress provides books and other content that bring spiritual impact, life transformation, and help lead in the mission of making disciples.