The King James Study Bible, Full Color Edition features scholarship of conservative scholars
The Best and Most Complete KJV Study Bible—

Now including Full-Color Maps, 

Charts, and Photos, 

to Provide 

a Visual Bible Study Experience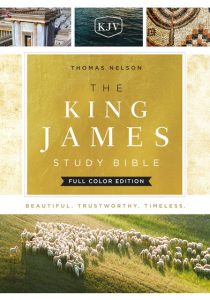 Nashville, Tenn., Aug. 4, 2017 – For more than a quarter of a century, Thomas Nelson has earned the trust of millions with the best-selling King James Study Bible, which has offered the standard of conservative KJV scholarship. This tradition and commitment to KJV study continues with the release of The King James Study Bible, Full Color Edition.
Standing apart from all other KJV study Bibles on the market, The King James Study Bible, Full Color Edition is the only Bible featuring extensive commentary, doctrinal notes, archaeological insights, and time-tested study aids developed exclusively for the King James Version.
Now available with stunning full-color designs, Holy Land images, classic works of art, charts, and maps, The King James Study Bible, Full Color Edition guides readers through the vivid beauty and authority of God's Word as they grow in their biblical knowledge.
"The King James Study Bible, Full Color Edition is the only one in the market with content that was specifically created—by scholars at Liberty University—for the time-honored King James Version Bible text," says Daniel Marrs, Associate Publisher for Thomas Nelson Bibles. "Because no other KJV Bible offers more to students of the Holy Bible, we have sold more than 2.4 million copies over the last twenty-five years. We're so pleased now to release this Bible in a beautiful, full-color edition."
The King James Study Bible, Full-Color Edition goes on sale August 8, 2017, and is available in cloth over board, bonded leather, imitation leather, and genuine leather bindings.
To preview the Bible and to download a free chapter of Genesis and a free devotional on end time prophesy, visit www.KJVStudyinColor.com.
To request review copies, contact Trinity McFadden at trinity.mcfadden@harpercollins.com or 616-698-3514.
About Thomas Nelson: Thomas Nelson is a world leading publisher and provider of Christian content and has been providing readers with quality inspirational product for more than 200 years. As part of HarperCollins Christian Publishing, Inc., the publishing group provides multiple formats of award-winning Bibles, books, gift books, cookbooks, curriculum and digital content, with distribution of its products in more than 100 countries. Thomas Nelson, is headquartered in Nashville, TN. For additional information visit www.thomasnelson.com.