The Jesus Bible hits No. 1 spot for CBA book
and Bible bestseller
Over 100,000 Bibles in the market five months after its release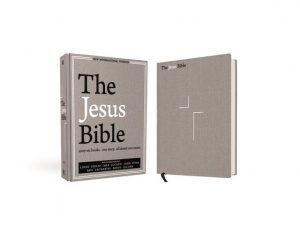 (Grand Rapids, Mich.) June 5, 2017—Sixty-six books.  One story.  One name—Jesus.  Experiencing Jesus throughout the Bible, Old and New Testaments, is the thematic expression throughout The Jesus Bible, NIV Edition.  Encountering Jesus throughout the Gospel is resonating with Bible readers everywhere—according to the Association for Christian Retail (CBA) June 2017 Bestseller report, The Jesus Bible sits at the No. 1 position for both Book and Bible products.
Since its release in January 2017, The Jesus Bible has surpassed more than 100,000 units sold, a milestone seldom reached by many published products.  This accomplishment, achieved in a mere five months, is a testament to the strength of The Jesus Bible's design, content, and message.  "We are so pleased with the encouraging early response to The Jesus Bible, NIV Edition," said Doug Lockhart, senior v-p of Bible marketing and outreach.
The team at Passion Publishing partnered with Zondervan to create The Jesus Bible with over 300 full-page articles and nearly 700 sidebar articles revealing Jesus throughout Scripture.  Essays by Louie Giglio, Max Lucado, John Piper, Ravi Zacharias, and Randy Alcorn accompany the single-column text Bible in the most trusted modern-English Bible translation—the New International Version (NIV).
Pastor of Passion City Church, founder of The Passion Movement, and lead author for The Jesus Bible, Louie Giglio, has gathered collegiate-aged young people from across the U.S. and around the world to unite in worship, prayer, and justice since 1997.  This Bible project extends his message to this next generation of Christian leaders to live their lives for Jesus. Lockhart continued, "Its depth of content, yet approachable style, is connecting with people of all ages.  Many have said they are seeing Jesus throughout the entire Bible with a new lens!"
To learn more about The Jesus Bible, NIV Edition, please visit:  www.TheJesusBible.com
About Zondervan:  Zondervan is a world-leading Bible publisher and provider of Christian communications. Zondervan, as part of HarperCollins Christian Publishing, Inc., delivers transformational Christian experiences through its bestselling Bibles, books, curriculum, academic resources and digital products. The Company's products are sold worldwide and translated into nearly 200 languages. Zondervan offices are located in Grand Rapids, MI. For additional information, please visit www.zondervan.com.