The Gospel Coalition publishes multi-author title, 'Social Sanity in an Insta World'
Edited by Sarah Eekhoff Zylstra, featuring contributions from Melissa Kruger, Jen Wilkin, Laura Wifler & more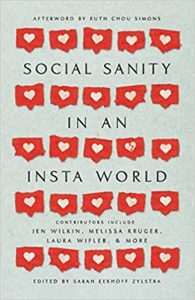 CHICAGO, IL, July 1, 2022:  US-based publishing ministry The Gospel Coalition (TGC) is delighted to announce the publication of a new multi-author title that encourages Christian women to apply grace and discernment to the way they engage online.
Social media can be both a delight and a disaster for women who want to love God and love neighbor. The industry has grown so fast that it's been hard to figure out how to handle it wisely: in less than 20 years, about 80 percent of American women have signed up for an account. The latest surveys show Americans spend more than two hours a day scrolling, posting, and liking.
Featuring nine influential authors from various prominent ministries across the evangelical community, Social Sanity in an Insta World seeks to explore social media's potential and pitfalls—along with the biblical principles we need to honor the Lord online.
Readers are invited to reflect on some of the subtle ways social media is forming their thought life and daily habits…
Why do I feel so irritated after being on social media?
Why is everyone on Facebook having more fun than I am?
Should I delete all my accounts?
Social Sanity in an Insta World is edited by Sarah Eekhoff Zylstra and features contributions from Jen Wilkin, Melissa Kruger, Laura Wifler, Emily Jensen, Gretchen Saffles, Ana Avila, Stephanie Greer, and Ruth Chou Simons.
To support the launch of this title, TGC is releasing a series of video interviews with the authors as part of a weekly book club, enabling churches to delve further into the principles behind the book and apply it in their local contexts.
Also releasing in July will be a special episode of Recorded—TGC's investigative journalism podcast written by Sarah Eekhoff Zylstra—exploring the way social media is affecting the lives of Gen Z Christian women.
Find out more at www.socialsanitybook.com.
For media inquires, contact sarah.zylstra@thegospelcoalition.org. 
---
Questions for interviews:
What are some of the pitfalls of social media explored in the book?
It seems as if some of the early excitement about social media has given way to a more cautious and skeptical approach. How did this happen?
Do the costs outweigh the benefits on social media? If so, should Christian women consider quitting social media completely?
Can you give us some examples of the book's principles for handling social media well?
In your chapter of the book you talk about the connection between social media and money. Why is it important to be aware of the economic dimensions of social media?
How does it help our understanding of social media to realize it's developed by—and used by—fallen people?
What does fearing God have to do with using social media?
There's a lot in the news about how social media can have psychological effects on users. How is it harming our mental health?
How can social media tempt us toward sinful behavior?
In what ways do some influencers, whether knowingly or unknowingly, pressure us to conform to a certain image of cultural acceptance, or in the case of Christian influencers, toward godly womanhood?