The essential Christian playbook for 2020 coming in December from Tyndale House Publishers
Already Sick of Presidential Election-Year Politics?
"This is one book that every Christian in America should have under their Christmas tree this year. Don't go into the election-year fray without a Bible reading plan that will keep you in the Word, and that includes specific, timely prayers for the nation each day."
– Dave Thornton, Brand Director, Tyndale House Publishers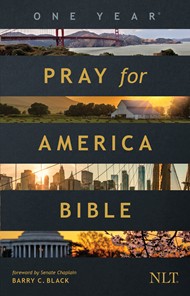 CAROL STREAM, IL (Nov. 13, 2019) — What is a Christian to do, facing a momentous election year ahead that is certain to feature toxic rhetoric and to present troubling choices? Can you have a vital and faithful response? In December, Tyndale House Publishers (@tyndalehouse) is publishing the essential tool for Christians as they face the year ahead: The One Year Pray for America Bible (NLT, Softcover, $11.99, ISBN 978-1-4964-4373-1). It is based on the understanding that reading God's Word daily and praying each day for the nation and its leaders, citizens, and institutions are failsafe responses.
"No one with a pulse is unaware of the harsh political haranguing that is already strangling national life," said Dave Thornton, Tyndale Brand Director. "As Christians face a presidential election year, we may feel helpless. A few of us are called to run for office and some of us are called to engage in the political skirmishes. But we are all called to seek God and to pray for his will in the elections and the work of those who govern us."
The One Year Pray for America Bible provides the popular One Year Bible® structure that enables you to read passages from the Old Testament, the New Testament, Psalms, and Proverbs in just 15 minutes a day. The Pray for America edition includes daily nonpartisan prayers and a selection of inspirational prayers from famous Americans.
The Bible includes a foreword by Barry C. Black, chaplain of the United States Senate.
"We should get back to praying for our government," writes Chaplain Black, "because life should not be divided into sacred and secular. God has sovereignty over all our lives because in him we live, move, breathe, and function (Acts 17:28)."
Features of The One Year Pray for America Bible include:
Trusted and much-loved New Living Translation (NLT)
The One Year Bible® format offers daily passages from the Old Testament, the New Testament, Psalms, and Proverbs
The entire text of the Bible divided into 365 daily readings
Compelling daily prayer prompts for America
Twelve fascinating full-page prayers from George Washington, Abraham Lincoln, Franklin D. Roosevelt, and more
Foreword from Senate Chaplain Dr. Barry C. Black
Compact and affordable Bible
Easy-to-read 8.5-point font
1488 pages
Great gift for friends, neighbors, and family members
Additional information about the Bible is available at The One Year Pray for America Bible NLT.
Since its founding in 1962, Tyndale House Publishers has been a voice to trust for generations of readers. Today, Tyndale is one of the largest independent Christian publishers in the world. Tyndale's mission is to make the Bible accessible to as many people as possible in language that they can relate and respond to. Tyndale publishes the Holy Bible, New Living Translation (NLT) and offers nonfiction books that equip readers with Christ-centered insight, counsel, and life-improving stories. In addition, Tyndale publishes fiction from fresh new voices and celebrated authors alike, capturing the imagination of millions of readers. With a deep understanding of the importance of nurturing future generations, Tyndale also publishes children's products that make God's Word and wisdom come alive. Tyndale's independent status allows it to follow its founding model, giving a majority of annual revenue—more than $100 million throughout its history—to charitable missions. With every book purchased, Tyndale readers help meet the physical and spiritual needs of people around the world.