"The End of Mental Illness" by Dr. Daniel G. Amen cracks bestseller lists on launch day
New Tyndale House Publishers Release Reaches Top 100 on Amazon and Barnes & Noble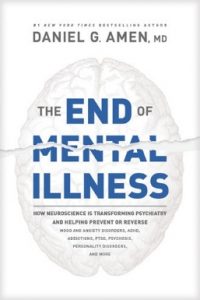 CAROL STREAM, ILL. – Tyndale House Publishers (@tyndalehouse) announced that The End of Mental Illness by #1 New York Times bestselling author Dr. Daniel G. Amen (https://danielamenmd.com/) rocketed to top 100 hourly rankings on both Amazon and Barnes & Noble soon after his new book launched nationally on Tuesday, March 3.
The success of Dr. Amen's book launch has been buoyed by a national marketing and publicity campaign, as well as a PBS special on the book that has been broadcast on a variety of major market PBS outlets throughout the country. In addition to the PBS special, Dr. Amen will appear on local network television morning shows in more than 30 markets on Thursday, March 5, including Denver, St. Louis, Atlanta, and Phoenix. Dr. Amen also interviewed with CNN's Lynn Smith for On the Story and was featured extensively in Justin Bieber's new docuseries, Seasons.
In addition to his television appearances, Dr. Amen has been interviewed on nearly 30 podcasts, including Better Together with Maria Menounos, On Purpose with Jay Shetty, Larry King Now, and Bulletproof Radio with Dave Asprey.
The advertising campaign reached millions nationwide through outlets such as Psychology Today, Washington Times, and Spirituality and Health.
The End of Mental Illness provides new hope for those suffering from conditions like depression, anxiety, bipolar disorder, addictions, PTSD, ADHD, and more. Though incidence of these conditions is skyrocketing, standard treatments haven't changed much in the past four decades, and success rates in treating them have barely improved. Meanwhile, the stigma of the "mental illness" label—damaging and devastating on its own—often prevents sufferers from getting the help they need.
Dr. Amen is on the forefront of a new movement within medicine and related disciplines that aims to change that. In The End of Mental Illness, Dr. Amen draws on the latest findings of neuroscience to challenge an outdated psychiatric paradigm and help readers take control and improve the health of their own brain, minimizing or reversing conditions that may be preventing them from living a full and emotionally healthy life. To aid diagnosis and treatment, Amen Clinics have done more than 170,000 brain scans on patients from 121 countries.
The End of Mental Illness will help readers discover:
Why labeling someone as having a "mental illness" is not only inaccurate but harmful
Why standard treatments may not have helped you or a loved one—and why diagnosis and treatment based on symptoms alone so often misses the true cause and results in poor outcomes
At least 100 simple things you can do yourself to heal your brain and prevent or reverse the problems that are making you feel sad, mad, or bad
Where to find the kind of health provider who understands and uses the new paradigm of brain health
For additional information about The End of Mental Illness, as well as other books from Tyndale House Publishers, visit: tyndale.com
Since its founding in 1962, Tyndale House Publishers has been a voice to trust for generations of readers. Today, Tyndale is one of the largest independent Christian publishers in the world. Tyndale's mission is to make the Bible accessible to as many people as possible in language that they can relate and respond to. Tyndale publishes the Holy Bible, New Living Translation (NLT), and offers nonfiction books that equip readers with Christ-centered insight, counsel, and life-improving stories. In addition, Tyndale publishes fiction from fresh new voices and celebrated authors alike, capturing the imagination of millions of readers. With a deep understanding of the importance of nurturing future generations, Tyndale also publishes children's products that make God's Word and wisdom come alive. Tyndale's independent status allows it to follow its founding model, giving a majority of annual revenue—more than $100 million throughout its history—to charitable missions. With every book purchased, Tyndale readers help meet the physical and spiritual needs of people around the world.