The Agustin Agency partners with art college
to publish young artists
The Agustin Agency and Author Bárbara Palacios—Miss Universe Titleholder—Partner with Art College to Provide Rare Publishing Opportunity for Young Artists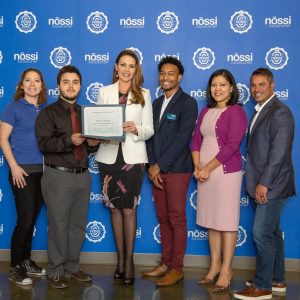 Nashville, Tenn.—The Agustin Agency, a global literary agency that connects authors with audiences around the world, along with author and Miss Universe titleholder Bárbara Palacios presented a $1,000 scholarship to Nossi College of Art alumnus Mikal Barker on Friday, April 26.
Barker received the scholarship as the winner of an illustration contest initiated by The Agustin Agency to find an illustrator for Palacios' upcoming children's book series. In addition to the scholarship, Barker's art will be included in Palacios' book proposal, providing him a unique opportunity to have his work in front of major publishers.
"I'm a firm believer in supporting young people with these types of programs," said Lluvia Agustin, who founded The Agustin Agency in July last year and represents Palacios as her literary agent. "When you win something, big or small," she continued, "it boosts your self-esteem." Agustin, who spent twenty years in the publishing industry before launching her own agency, said she is passionate about helping young people advance in their field. "It's a way of giving back," she said.
Nossi All Access, a program at Nossi College of Art that connects students with professional opportunities, worked with Agustin and Palacios to facilitate the contest. All illustration majors and alumni were invited to submit sketches and fully executed illustrations to exhibit how they would portray the characters and themes in Palacios' children's series that focuses on how to overcome obstacles and embrace who you truly are.
"This is a great opportunity for our students and recent graduates to work on a project of this size and importance," said Cyrus Vatandoost, executive vice president of the college. "Through our Nossi All Access program, Nossi College gives students a glimpse into real-world timelines and deadlines, so they can compete in the professional world."
The quality of Barker's work stood out to Palacios, who said she was drawn to Barker's use of color and his portrayal of the characters.
"When I saw Mikal Barker's art, it brought tears to my eyes," said Palacios. "I thought, 'Yes, that's it. They will fit my stories.'"
Agustin hopes to be able to carry out more contests like this, giving young artists a chance to illustrate for books or book proposals.
"More than the scholarship money, simply winning a contest like this can have a huge impact on a young artist" Agustin said. "The agency and I represent some of the best authors we know, and we are committed to empowering the artists and writers of the future."
The Agustin Agency is a literary agency that utilizes a comprehensive set of services that gets authors the results they deserve. They work with publishers all over the world to get their books translated and distributed internationally. The Agustin Agency focuses on the quality of the content first and because of that approach, they are able to prepare proposals for publishers that are really worth their time and attention. To learn more, visit TheAgustinAgency.com.
Nossi College of Art offers professional, creative associate and bachelor's degrees in Web & Interactive Design, Graphic Design Media, Photography, Video & Film and Commercial Illustration.
Bárbara Palacios is a speaker, a published author, the host of the podcast El Universo de Inspiración, and the winner of the Miss Universe contest of 1986.
Media inquiries: Lluvia Agustin, Info@TheAgustinAgency.com, 615-562-1036
PHOTO (from left):  Libby Funke Luff, Media Manager Nossi College; Kendall Whiteside, Communications Coordinator; Mikal Barker, Artist and Alumnus; Miss Universe Title Holder Barbara Palacios; Lluvia Agustin, General Director The Agustin Agency;  Cyrus Vatandoost, Executive Vice President of Nossi College