"The Action Bible" celebrates 10 years,
85 million units in print
Expanded Hardcover Edition Arrives September 2020
New Edition of The Action Bible Includes 25 New Stories & 23 Expanded Stories
Illustrated by Marvel & DC Comics Artist Sergio Cariello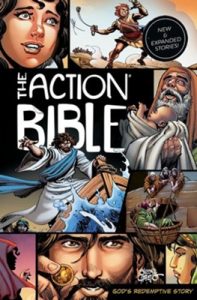 Colorado Springs, Colo. — Publisher David C Cook will celebrate ten years of The Action Bible with the release of an expanded hardcover edition. Arriving this September, The Action Bible will feature 25 new Bible stories and 23 expanded stories – all illustrated by Marvel and DC Comics artist Sergio Cariello.
The Action Bible family of products has more than 85 million units in print worldwide since it launched in 2010. The original The Action Bible has sold more than 2.3 million copies and has spent more than 515 weeks on the ECPA Top 50 bestseller list. It is available in 27 languages globally, with 10-15 additional language translations to be completed in 2020.
Sergio Cariello studied at the Word of Life Bible Institute (in Brazil and New York) as well as the Joe Kubert School of Cartooning (New York). He drew superheroes for Marvel and DC Comics and served as an instructor at the Kubert School. Sergio has spent more than a decade bringing the Bible to life for children and adults around the world.
"It's been the privilege of my life to combine my faith and art in The Action Bible. I loved to study the Bible before I began drawing The Action Bible, so these illustrations are the result of a continuous walk with Christ," explains Sergio Cariello. "Drawing Captain America or Batman is fantastic, but drawing Jesus is different because I know the Holy Spirit is touching readers' hearts through my drawings."
"At David C Cook, the global impact of The Action Bible reflects a key portion of our mission 'to make and teach disciples,'" says Cris Doornbos, CEO of David C Cook Publishing. "Churches, parents and children around the world are using The Action Bible family of products to share the big God story and the love of Jesus Christ, for a more effective accomplishment of our mission."
The Action Bible
www.TheActionBible.com
Available September 2020 from David C Cook
Price: U.S. $29.99  Format: Hardcover Pages: 832  ISBN: 978-0-8307-7744-0
Sergio Cariello is a Brazilian-born DC and Marvel Comics artist and the illustrator of The Action Bible product line, which has sold more than 2.3 units in North America. www.sergiocariello.com
David C Cook is a nonprofit organization dedicated to publishing and distributing leadership and discipleship resources to help Christians all over the world grow in their faith and pass it on to the next generation.