Super Bowl MVP Nick Foles, along with his wife Tori, announce launch of Foles Believe Foundation
Foles is the New York Times bestselling author of Believe It, published by Chicago area-based Tyndale House Publishers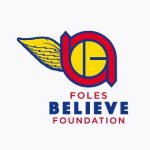 CAROL STREAM, ILL. (April 20, 2020) – Nick Foles, Chicago Bears quarterback and author of the New York Times bestselling memoir Believe It: My Journey of Success, Failure, and Overcoming the Odds, has announced that he and his wife, Tori, have launched the Foles Believe Foundation (@folesbelieve and www.folesbelieve.org).
In its initial action, Foles Believe is making nine grants to food banks across the country, including two in the Chicago area. Grant recipients include: Central Texas Food Bank, Feeding Northeast Florida, Feeding Texas, Food Bank of South Jersey, Greater Chicago Food Depository, Lakeview Pantry, Mariners Church, Orange County Rescue Mission, and Philabundance.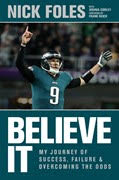 Nick Foles, who was acquired via trade by the Chicago Bears from the Jacksonville Jaguars earlier this spring, is the 2018 Super Bowl MVP-winning quarterback for the Philadelphia Eagles. A graduate of the University of Arizona, Nick was drafted by the Eagles in the third round of the 2012 draft. In 2013, he became the first quarterback in NFL history to post a perfect passer rating (158.3), and to throw seven touchdowns in a single game, earning him a spot in the Pro Bowl, and Offensive MVP honors. Foles played one season in St. Louis (2015) and one in Kansas City (2016), before returning to the Eagles in 2017. On February 4, 2018, Foles led the Eagles to their first Super Bowl victory in franchise history. He and his wife, Tori, have a daughter named Lily and a Golden Doodle named Henry. The couple is expecting their second child later this year.
Additional information about Foles Believe is available at www.folesbelieve.org.
More information about Nick Foles's memoir, as well as Tyndale House Publishers, is available at www.tyndale.com.
Since its founding in 1962, Tyndale House Publishers has been a voice to trust for generations of readers. Today, Tyndale is one of the largest independent Christian publishers in the world. Tyndale's mission is to make the Bible accessible to as many people as possible in language that they can relate and respond to. Tyndale publishes the Holy Bible, New Living Translation (NLT) and offers nonfiction books that equip readers with Christ-centered insight, counsel, and life-improving stories. In addition, Tyndale publishes fiction from fresh new voices and celebrated authors alike, capturing the imagination of millions of readers. With a deep understanding of the importance of nurturing future generations, Tyndale also publishes children's products that make God's Word and wisdom come alive. Tyndale's independent status allows it to follow its founding model, giving a majority of annual revenue—more than $100 million throughout its history—to charitable missions. With every book purchased, Tyndale readers help meet the physical and spiritual needs of people around the world.