Silence and Beauty Author Serves as Consultant
on Long-Awaited Martin Scorsese Film
Contact | Krista Clayton | 630.734.4013 | kclayton@ivpress.com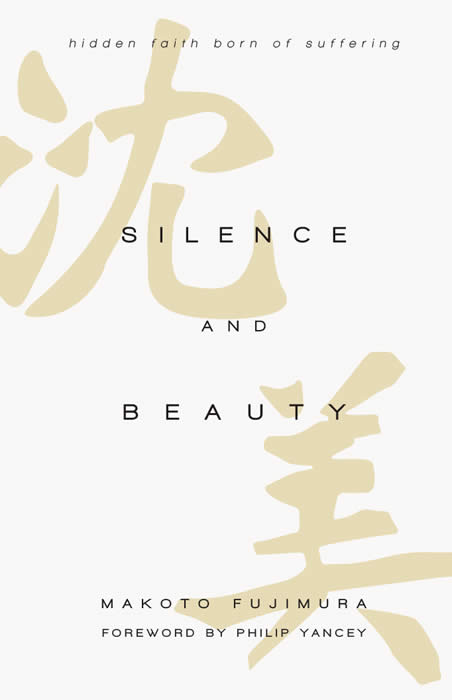 WESTMONT, IL—When IVP author Makoto Fujimura was weighing whether to write a book inspired by Shusaku Endo's 1966 classic novel Silence, a friend introduced him to Martin Scorsese, who had been considering a film about the same book for nearly thirty years. That conversation with Scorsese led Fujimura to move ahead with writing his book and to become a consultant for Scorsese's Silence, which is set for limited release on December 23.
Fujimura's book, Silence and Beauty: Hidden Faith Born of Suffering, is a hopeful companion to Scorsese's film, taking up the difficult themes it depicts.
Josh Larsen, co-host of the radio show and podcast Filmspotting and author of the forthcoming IVP title Movies Are Prayers, read Silence and Beauty and recently saw a preview of Silence. Larsen said, "After experiencing Martin Scorsese's intense, evocative Silence, viewers will be hungry for the very thing Makoto Fujimura's Silence and Beauty offers: fascinating historical and cultural context, as well as a personal testimony of the way Fujimura's own convictions have been formed by the Endo book that Scorsese beautifully brings to the screen."
Hailed as one of the greatest works of twentieth-century Japanese literature, Endo's novel, Silence, tells the story of the persecution of Portuguese Jesuit missionaries who encounter bloody resistance and persecution from local leaders in seventeenth-century Japan as they undertake a quest to find their fallen mentor. Endo's narrative raises uncomfortable questions about God and the ambiguity of faith in the midst of suffering and hostility. Glenn Whipp of the Los Angeles Times described the film adaptation featuring Liam Neeson and Andrew Garfield as "a probing and deeply spiritual examination of faith tested by the seeming silence of God."
"The film adaptation of Silence is much more than what anyone could have predicted– majestic, soul-stirring and historic," Fujimura said. "The movie, as a visual testament, stays faithful to Shusaku Endo's masterpiece, and remains faithful to the 17th century martyrs of Japan. It is a movie for 'such a time as this.'"
An internationally renowned visual artist, Fujimura in Silence and Beauty lends a personal interpretation of Endo's book as he overlaps his artistic faith journey with Endo's, uncovering deep layers of meaning in Japanese history and literature, expressed in art both past and present. He finds connections to how faith is lived in contemporary contexts of trauma and glimpses of how the gospel is conveyed in Christ-hidden cultures. Philip Yancey, a bestselling Christian author, said, "Only Mako Fujimura could have written this book. It sheds light on a wealth of topics—a classic novel, Japanese culture, Martin Scorsese's filmmaking, the fine arts, theology, the enigmas of East and West—and leaves the reader with a startlingly new encounter with Christ."
IVP publisher Jeff Crosby said, "I first read Endo's Silence in the 1980s at the suggestion of Philip Yancey. It was both painful and riveting and unforgettable all at the same time, as Scorsese's film adaptation will no doubt be. I'm grateful for the chance that IVP has had to publish into the conversations generated by that book and by the film through Makoto's powerful Silence and Beauty. In many ways, it serves as both a primer and an interpreter for the other two and, like them, challenges we readers—and viewers—to recognize that what on one level is abject failure can, at times, be the beginning of a new  journey toward compassion."
Founded in 1947 as an extension of InterVarsity Christian Fellowship/USA, InterVarsity Press serves those in the university, the church and the world by publishing thoughtful Christian books that equip and encourage people to follow Jesus as Savior and Lord in all of life. For more information, visit ivpress.com.