She Reads Truth Partners with IllumiNations
to Help Eliminate Bible Poverty
Giveaways at SheReadsTruthBible.com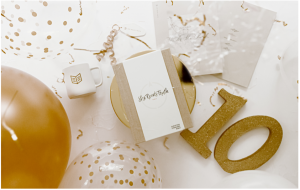 NASHVILLE, Tenn. (Tuesday, May 31, 2022) – She Reads Truth™ will mark 10 years on June 1, 2022. What began with a simple tweet and the #shereadstruth hashtag has now grown into a worldwide movement and community of "women in the Word of God every day."
Ten years later, She Reads Truth™ now serves a global community of more than a million women, men and children with daily Bible reading plans and resources, including digital resources like the She Reads Truth™ app, web site, and podcast, and printed resources like the She Reads Truth™ Subscription Box and Study Books.
Raechel Myers and Amanda Bible Williams, the founders of She Reads Truth™ and co-editors of the She Reads Truth Bible, are humbled and awed by the last decade: "This community of 'Women in the Word of God every day' represents a long list of cities and countries, a variety of backgrounds and traditions, and countless real-life stories. But there is a commonality that binds us: we believe God's Word is Truth. So we read. We engage with God's Word and with each other. And we keep coming back, on the hard days and the good days, because God and His Word never change, regardless of our circumstances."
Over the past ten years, the She Reads Truth™ community has read 143 Bible reading plans together, including 63 full books of the Bible (with the last three books scheduled to be completed in 2024). The company has self-published 223 study books, three children's books, and numerous other products designed to promote biblical literacy. Myers and Williams are also the general editors of the award-winning She Reads Truth Bible and the He Reads Truth Bible. She Reads Truth Bible has topped 500,000 units sold, making it Holman's highest-selling CSB Bible to date. In addition, the She Reads Truth Bible, one of the first Bibles published in the Christian Standard Bible® (CSB) translation, was awarded an ECPA Gold Milestone Sales Award in 2021.
The She Reads Truth™, He Reads Truth™, and Kids Read Truth™ brands are based out of Nashville, TN. The team of 30 is led by co-founders Raechel Myers and Amanda Bible Williams and COO Ryan Myers. To celebrate ten years of opening their Bibles, She Reads Truth™ is inviting their community to partner with illumiNations (illuminations.bible) to help eliminate Bible poverty around the world. IllumiNations is a collective impact alliance of Bible translation partners and resource partners working together to make God's Word accessible to all people in their languages by 2033. For more, https://www.12vc.com/shereadstruth.
Holman Bibles, publisher of both She Reads Truth Bible and He Reads Truth Bible, is celebrating the 10th Birthday of She Reads Truth with a giveaway at its website (https://csbible.com/celebrating-10-years-of-she-reads-truth/). Ten winners will receive the She Reads Truth "Party Pack" including a She Reads Truth Bible, summer study sets, a keychain and a mug.
"We love the spirit and vision of She Reads Truth™ community," says Andy McLean, Publisher, Holman Bible and Reference. "The team at She Reads Truth is literally helping hundreds of thousands of women engage meaningfully with Scripture, changing lives, homes, and neighborhoods worldwide."

She Reads Truth™ is a worldwide community of women who read God's Word together every day. Founded in 2012, She Reads Truth invites women of all ages to engage Scripture through daily reading plans, online conversation led by a vibrant community of contributors, and offline resources created at the intersection of beauty, goodness, and truth. Learn more at SheReadsTruth.com or on socials at @shereadstruth.
Raechel Myers is the founder and CEO of She Reads Truth, He Reads Truth, and Kids Read Truth. A reluctant writer but lover of story, she delights in the evidence of God's beauty, goodness, and truth in everyday life. Raechel and her husband live in Nashville, Tennessee, with their two children.
Amanda Bible Williams is co-founder and chief content officer of She Reads Truth, He Reads Truth, and Kids Read Truth. A lover of words and the Word, Amanda spends her days reading and leading, writing and editing, and explaining that her maiden name really is Bible. She lives with her husband and their four children in a lively farmhouse just south of Nashville, Tennessee.
The Christian Standard Bible (CSB) is a highly trustworthy, faithful translation that is proven to be an optimal blend of accuracy and readability. It's as literal to the original as possible without sacrificing clarity. The CSB is poised to become the translation that pastors rely on and Bible readers turn to again and again to read and to share with others.
Holman Bibles is the oldest Bible publisher in North America, publishing high quality Bibles and reference resources that are trustworthy, accessible, and useful for the pursuit of lifelong discipleship. Print and digital releases include the She Reads Truth™ Bible, the CSB Tony Evans Study Bible, the Tony Evans Bible Commentary, and the Rainbow Study Bible. Holman Bibles is a subsidiary of B&H Publishing Group.
Media Contact: Diana Wurster, diana@mmpublicrelations.com, 281-793-7929