Shauna Niequist appears on Oprah Winfrey's "Super Soul Sunday"
Niequist Discussed Her Latest Book 'Present Over Perfect' with Oprah
on August 20, 2017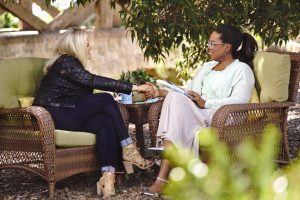 Grand Rapids, Mich., August 21, 2017 – Shauna Niequist appeared on "Super Soul Sunday" on August 20th to discuss her instant New York Times bestseller Present Over Perfect: Leaving Behind Frantic for a Simpler, More Soulful Way of Living (Zondervan, August 2016, 9780310342991).
The breakout title debuted at #2 on The New York Times Advice, How-To, & Miscellaneous bestseller list for Aug. 28, 2016, #1 on the Publishers Weekly Nonfiction list, #1 on The Wall Street Journal Best-Seller Nonfiction list and #8 on USA Today's Best-Selling Books list.  Present Over Perfect has reached more than 350,000 copies sold since its release in August of 2016.
To watch Niequist's conversation with Oprah, visit: http://www.oprah.com/own-super-soul-sunday/Shauna-Niequist
About the Book:
In a culture that values speed, efficiency, image, and busyness, Shauna Niequist was aching for another way to live. At 36 years-old the popular author found herself exhausted and isolated, fed up with the frantic life she had created. In her book, Present Over PerfectNiequist shares what she's learning on her journey to trade competition, comparison, and exhaustion for meaning, connection and unconditional love. 
About the Author:
Shauna Niequist is the author of Present Over Perfect, Savor, Bread & Wine, Cold Tangerines, and Bittersweet. Shauna is a bookworm, a beach bum, an enthusiastic home cook and a passionate gatherer of people. She is married to Aaron, and they live in Chicago with their two boys, Henry and Mac. You can connect with her online at ShaunaNiequist.com.
Zondervan is a world leading Bible publisher and provider of Christian communications.  Zondervan, part of HarperCollins Christian Publishing, Inc., delivers transformational Christian experiences through its bestselling Bibles, books, curriculum, academic resources and digital products. The Company's products are sold worldwide and translated into nearly 200 languages. Zondervan offices are located in Grand Rapids, Mich.  For additional information, please visit www.zondervan.com.