Salem Books announces acquisition of new book from rising pastor and speaker John K. Amanchukwu, Sr.
Eraced Exposes the Racist Agenda Behind Abortion and Critical Race Theory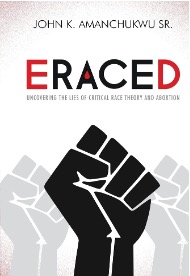 NASHVILLE, Tenn. (July 5, 2022) — Salem Books announced today the signing of John K. Amanchukwu, Sr., to its stable of authors. In his debut book, Eraced: Uncovering the Lies of Critical Race Theory and Abortion (October 4, 2022), he speaks to some of the hottest cultural issues of our time. In Eraced, Amanchukwu dispels the myths surrounding these evils, uncovering the left's sinister plot to destroy the black community and divide the Church.
"We are thrilled to have John join the Salem Books team," said Publisher Tim Peterson. "We believe John's prophetic message and voice are uniquely positioned to speak truth where lies threaten to reign and help heal the racial division we face in America today."
"What an honor to be joining Salem Books for my first book," Amanchukwu said. "It's my sincere hope that together we will help bring Eraced to a larger audience and that we'll see God open blind eyes to the truth."
To learn more about Amanchukwu and book him for speaking engagements or other opportunities, visit https://johnamanchukwu.com/.
Salem Books is an imprint of Regnery Publishing and is owned by Salem Media Group, a national multimedia company serving Christian audiences through radio, online, and print resources. Salem Books seeks to enrich the lives of Christians and proclaim the Gospel of Jesus to the world through the written word. At Salem Books, we know the power and peace in God's Word and its ability to strengthen believers in their walk with Christ. We believe God's grace and truth shines light into darkness, illuminating a path through our chaos-filled world. Our goal is to help people grow in their faith and find comfort, encouragement, practical advice, and timeless wisdom in compelling books by trusted authors. We have published pastors, motivational speakers, artists, counselors, and storytellers. 
John K. Amanchukwu, Sr., is a passionate minister, father, speaker, and leader within many circles of influence, as well as a contributor to Turning Point Faith. His true passion is found in calling the next generation to repentance and action. He is a graduate of North Carolina State University, where he played football under Coach Chuck Amato. John received a master's degree from Liberty University in Christian Ministry. He has served as the leader of Youth and Young Adult Ministries and has been a youth pastor for fifteen years. Over the past four years, John has led a 40-week prayer walk for Love Life at one of the busiest abortion clinics in the Southeast. He has been married to his wife Crystal for 14 years, and they have three children. As a family, they pray, worship, and serve in their church, the local abortion facility, and wherever there is a need.
Media Contact:  Jessica Brown Kramer,  jessica@epic.inc,  404-545-8944