Sadie Robertson Huff releases new YA devotional with Tommy Nelson
Sadie Robertson Huff challenges young generation to live well daily with new devotional
Follow-up to national bestsellers "Live" and "Live Fearless," "Live on Purpose: 100 Devotions for Letting Go of Fear and Following God" debuts Sept. 28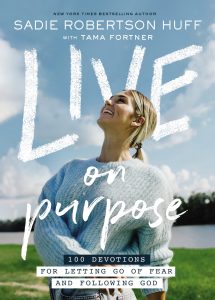 NASHVILLE, Tenn. (Sept. 21, 2021) – Teens and young adults will reach new depths of faith as they discover how to live life to the fullest in Sadie Robertson Huff's new book, "Live on Purpose: 100 Devotions for Letting Go of Fear and Following God" (ISBN: 9781400213092).
Huff builds on her enduring message to live fearlessly and purposefully in her new devotional. Live on Purpose takes the life-changing themes from her bestselling books Live Fearless and Live, and applies those truths through Scripture, prayer, and her passionate message to live well. In each entry, she shares her personal journey with God and provides practical tools for readers to nurture and sustain their own spiritual well-being.
"Every day we have the decision to press past the fear, insecurities and anxieties of this life and choose to live on purpose," said Robertson Huff. "My prayer, is that this devotional encourages everyone who picks it up, to run into their God-given purpose and start living life for the Glory of God"
Huff is a leading voice of hope, courage, and truth for young people. She is a speaker, influencer, media personality, wife, sister, daughter and earlier this year, became a first-time mother. In a world where young believers are frequently experiencing ups and downs, She still remains a relatable source of encouragement. Her hope is that "Live on Purpose: 100 Devotions for Letting Go of Fear and Following God" helps young people on their daily journey to letting go of fear and walking out their purpose.
"Live on Purpose" covers topics including:
overcoming fear and living with confidence
living without limitations by setting aside fear, anxiety, and comparison
authentically celebrating every moment in life
replacing temporary highs with the promises of God
dreaming big and living like it's on purpose
With a social media audience of more than 6 million, Huff is a wholesome role model and enthusiastic voice for her generation. Huff's fanbase follows her hit podcast, WHOA That's Good; watched her become runner-up on season 19 of Dancing with the Stars; or read her bestselling books including Live, Live Fearless, Live Original, and Life Just Got Real.
Live on Purpose: 100 Devotions for Letting Go of Fear and Following God (ISBN: 9781400213092, ages 13-16) releases on Sept. 28, 2021 everywhere books are sold.
About Sadie Robertson Huff:
Speaker, New York Times bestselling author, influencer and founder of Live Original. Communicating as a sister and friend, Huff is on a mission to use her influence to reach the world with the message of Christ. Sadie is the host of the popular podcast WHOA, That's Good, which launched in 2018. Her podcast continues to top charts and minister to millions of listeners as she engages with influencers by asking them to share the, "best piece of advice they have ever received". Using her influence for the good, she is also the creator of the Live Original Blog, which features encouraging and transparent messages from her and her closest friends. Sadie is also the host of an online community and App, LO Sister, which is designed to cultivate sisterhood through bible studies and workshops. Sadie, her husband Christian, and their daughter reside in Louisiana.
About Tommy Nelson:
Tommy Nelson® is the children's division of Thomas Nelson. As a leading provider of Christian content, Tommy Nelson publishes a wide variety of high-quality, enjoyable products that are consistent with the teachings found in the Bible. Tommy Nelson's award-winning products are designed to expand children's imaginations and nurture their faith while inspiring them to develop a personal relationship with Jesus. For more information, visit www.tommynelson.com.
Media contact:  Natividad Lewis, Publicist, 931.698.9620, natividad.lewis@harpercollins.com