Revell Signs Ted Dekker
Contact: Karen Steele
(616)676-9185 x100
ksteele@bakerpublishinggroup. com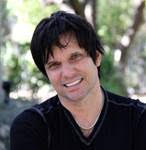 Ada, Mich. (January 13, 2017)—Revell, a division of Baker Publishing Group, is pleased to announce that they have signed a multi-book contract with award-winning and New York Times bestselling author Ted Dekker.
Dekker is the author of more than forty novels, with over 10 million copies sold worldwide. Born in the jungles of Indonesia to missionary parents, he lived amongst cannibals who killed the parents of several of his friends.  Dekker was sent to a coastal school at the young age of six, living apart from him parents for months at a time. His upbringing as a stranger in a fascinating and sometimes frightening culture fueled his imagination, and it was during the lonely times as a child that he became a storyteller.
Dekker's passion is simple—to explore truth through mind-bending stories that invite readers to see the world through a different lens. His fiction has been honored with numerous awards, including two Christy Awards, two Inspy Awards, an RT Reviewers Choice Award, and an ECPA Gold Medallion. In 2013, NPR readers nationwide put him in the Top 50 Thriller Authors of All-Time.
"We love to publish a gripping suspense novel, and Ted Dekker sets the highest standard in that category," said Dwight Baker, president of Baker Publishing Group. "Our Revell team has prepared for many years to address this exciting new challenge to represent Ted Dekker and serve his many readers."
Andrea Doering, executive editor for Revell, stated, "Publishing Ted Dekker's work has been a goal for our team at Revell, and we're thrilled to partner with him; Ted's talent for creating an intense, richly layered story that stays with readers is just incredible."
Executive Vice President of Sales and Marketing David Lewis, added, "We are very pleased to have reached an agreement to publish Ted Dekker's novels.  His many previous novels have thrilled, entertained and scared readers, who love his writing as do we.  We look forward to continuing with his current fans and to finding new readers for his books.  We plan to do that by working together with him to creatively and effectively market his new releases in all the various kinds of media."
Revell, a division of Baker Publishing Group, publishes books that help bring the Christian faith to everyday life. Whether through fiction, Christian living, self-help, marriage, family, or youth books, each Revell publication reflects relevance, integrity, and excellence.
###