Rev. Esau McCaulley to publish "God's Colorful Kingdom Storybook Bible" with Tyndale Kids
Carol Stream, Ill. (September 21, 2021) — Tyndale House Publishers (@tyndalehouse) announced that Rev. Esau McCaulley, PhD, will publish God's Colorful Kingdom Storybook Bible: The Story of God's Big Diverse Family with Tyndale Kids in January 2023.
God's Colorful Kingdom Storybook Bible will tell the story of God's love of ethnic diversity and his concern for the poor, his justice, and his compassion. This one-of-a-kind storybook Bible will include 16 Old Testament stories and 15 New Testament stories, guiding children and parents to understand God's overarching story of grace and his intentional design for an ethnically diverse church that cares about the vulnerable. Several of the stories aren't traditionally included in storybook Bibles, providing new learning opportunities for families.
McCaulley is an assistant professor of New Testament at Wheaton College in Wheaton, IL. He is the author of Reading While Black: African American Biblical Interpretation as an Exercise in Hope, which won numerous awards, including Christianity Today's Beautiful Orthodoxy Book of the Year. As a father of four, biblical scholar, and sought-after commentator on matters of faith, race, diversity, and culture, McCaulley is uniquely situated to craft a faithful, accessible rendering of the story of God's diverse family.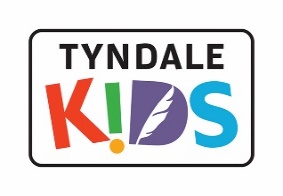 "We are thrilled to be working with Esau on this book," said Linda Howard, associate publisher for Tyndale Kids. "Our prayer is that Esau's unique view of God's plan for diversity throughout the Bible will help all of us be a more loving and unified body of Christ."
About this exciting project, McCaulley said, "I hope that this storybook Bible introduces children to the wider world of the Scriptures in which God desires to create a just Kingdom from people of every ethnicity through the work of his Son, who loves us. As a parent, I know well the difficulty of finding resources that display this vision of the Scriptures to the young. I pray that families find it useful."
Esau McCaulley is represented by Laurie Liss of Sterling Lord Literistic, Inc. For more information or for media inquiries, please contact Madeline Daniels, madelinedaniels@tyndale.com.
Since its founding in 1962, Tyndale House Publishers has been a voice to trust for generations of readers. Today, Tyndale is one of the largest independent Christian publishers in the world. Tyndale's mission is to make the Bible accessible to as many people as possible in language that they can relate and respond to. Tyndale publishes the Holy Bible, New Living Translation (NLT) and offers nonfiction books that equip readers with Christ-centered insight, counsel, and life-improving stories. In addition, Tyndale publishes fiction from fresh new voices and celebrated authors alike, capturing the imagination of millions of readers. With a deep understanding of the importance of nurturing future generations, Tyndale also publishes children's products that make God's Word and wisdom come alive. Tyndale's independent status allows it to follow its founding model, giving a majority of annual revenue—more than $110 million throughout its history—to charitable missions. With every book purchased, Tyndale readers help meet the physical and spiritual needs of people around the world.
TyndaleKids.com
Contact:  Madeline Daniels, madelinedaniels@tyndale.com