"Resurrecting Justice" from IVP Academic wins 2021 Word Guild Award
WESTMONT, IL—IVP Academic's Resurrecting Justice by Douglas Harink has won the 2021 Word Guild Award in the Non-Fiction Biblical Studies category. The Word Guild Awards are given out each year to encourage the pursuit of excellence in writing and to help raise the profile of Canadian writers who are Christian.
Anna Gissing, associate editor for IVP Academic, said, "Arguments for justice today often come from outside the Bible. In Resurrecting Justice, Doug Harink brings his expertise in Pauline theology to this hot topic, demonstrating that justice is a major theme in Romans as well. We are proud that his work has been honored with this award and trust that many readers will appreciate his contribution to studies in biblical justice."
In Resurrecting Justice: Reading Romans for the Life of the World  theologian Douglas Harink invites readers to rediscover Romans as a treatise on justice. He traces Paul's thinking on this theme through a sequential reading of the book, finding in each passage facets of the gospel's primary claim—that God accomplishes justice in the death and resurrection of Jesus Messiah. By rendering forms of the Greek word dikaiosynē as just or justice, Harink emphasizes the inseparability of personal, social, and political uprightness that was clear to Paul but is obscured in modern translations' use of the words righteous and righteousness instead.
Throughout this book, Harink includes personal reflection questions and contemporary implications, helping readers connect Paul's teaching to issues in their world such as church life, politics, power, criminal justice, and violence.
Nijay K. Gupta, professor of New Testament at Northern Seminary, said, "What is Romans about? We know the traditional answers: justification by faith, forgiveness of sins, personal salvation. Harink doesn't throw these out the window but puts the spotlight on the thematic thread of justice that runs all through Romans. I admit that I had my initial hesitations and doubts about reading Romans as a treatise on justice, but by the end I was a believer! Harink joins together what has often been torn asunder today—the relationships between personal and corporate, individual and communal, and personal justification and social justice in Christian thought and theology—with the resurrection of Christ at the center of it all."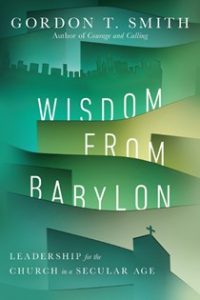 IVP also had one title selected for the 2021 Word Guild Short List in two categories. Wisdom from Babylon: Leadership for the Church in a Secular Age by Gordon T. Smith made the short list for Biblical Studies and for the Best Book Cover Award. Gordon Smith is passionate about the need for capable, mature leaders to navigate and respond to a changing society. In this book, he draws on his extensive experience as a university president, pastor, and international speaker to open a multidisciplinary conversation about the competencies and capacities essential for today's leaders.
David Fitch, B. R. Lindner Chair of Evangelical Theology at Northern Seminary, and author of Faithful Presence, said, "Wisdom from Babylon is a masterful guide for Christian leadership amid the upheavals of our secular age. Global in reach, thick with scholarship, Gordon Smith's work gives us the wherewithal to gain a footing for the journey that besets us. He offers not retreat but presence. This book is hope for anyone asking, 'How can we sing the Lord's song in a foreign land?' (Psalm 137:4)."
For a complete list of IVP award winners visit ivpress.com/award-winners.
Contact: Krista Clayton | 630.734.4013 | kclayton@ivpress.com