Renowned brain-imaging researcher and founder
of Amen Clinics to release new book with Tyndale Momentum
Influential Psychiatrist Unlocks Brain's Potential to Overcome Damaging Emotions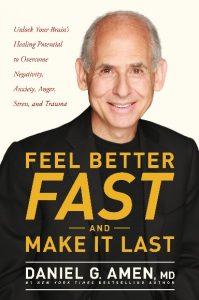 Carol Stream, Ill. (September 13, 2018) — Tyndale House Publishers (@tyndalehouse) announced today that Dr. Daniel Amen will publish Feel Better Fast and Make It Last (ISBN: 978-1-4964-2565-2, $25.99, HC), his second release with Tyndale Momentum following 2017's groundbreaking Memory Rescue. In his new book, scheduled for a hard street date of November 13, 2018, Amen unlocks the healing power of the brain to overcome painful emotions. The book's release will include a significant marketing budget as well as a national media tour.
Amen, a popular psychiatrist and brain-imaging researcher and the founder of Amen Clinics, understands how critical it is to help patients feel better both quickly and long-term. Using the mnemonic BRAIN-XL, Amen demonstrates a specific plan for improving emotional health.
Amen writes that it's normal to experience challenging emotions, but how people respond to these challenges will make all the difference in how they feel—not just immediately, but also in the long run. In our society, many turn to self-medicating behaviors, such as overeating, drugs, alcohol, or risky sexual behavior, while others spend excessive time on TV, video games, Internet surfing, or shopping. Even though these behaviors may provide temporary relief, they often prolong and exacerbate the problems—or cause other, more serious ones.
In Feel Better Fast and Make It Last, readers will discover new, powerful brain-based strategies to quickly gain control over negative emotions, strengthening resilience and discovering joy and purpose for a lifetime.
Amen states, "If you're like me, when you hurt, you want to feel better now, fast, pronto! During my psychiatric training I had a wonderful supervisor, Dr. Jack McDermott, who was a world leader in psychiatry. In his evaluation of me at the end of the year he wrote, 'Dr. Amen is a bright, competent, and caring physician, who will make a wonderful psychiatrist; but he needs to be more patient. He wants people to get better fast.' Then and now, I don't see wanting people to get better quickly as a problem. That is what people who are in pain want. No one wants to be patient. No one wants a prolonged process. They want to feel better fast, and they want that feeling to last."
Regarding this acquisition, executive publisher Jan Long Harris states, "We've all felt anxious, sad, stressed, angry, or hopeless at some point in life. In this new book, Dr. Amen shares the latest brain-based strategies for gaining control over painful emotions and replacing them with sustained positive feelings. It's a privilege to work with him to help get the word out that it's possible to feel happier, more optimistic, more joyful and resilient—both now and in the future."
The Washington Post has called Dr. Amen the most popular psychiatrist in America, and Sharecare named him the web's #1 most influential expert and advocate on mental health. Dr. Amen is a physician, double board–certified psychiatrist, 10-time New York Times bestselling author, and international speaker. He is the founder of Amen Clinics in Costa Mesa, Encino, and San Francisco, California; Bellevue, Washington; Reston, Virginia; Atlanta, Georgia; New York, New York; and Chicago, Illinois. Amen Clinics have one of the highest published success rates treating complex psychiatric issues, and they have built the world's largest database of functional brain scans, totaling more than 150,000 scans on patients from 120 countries.
Dr. Amen is the lead researcher on the world's largest brain imaging and rehabilitation study of professional football players. His research has not only demonstrated high levels of brain damage in players but also shown the possibility of significant recovery for many with the principles that underlie his work.
Together with Pastor Rick Warren and Mark Hyman, MD, Dr. Amen is also one of the chief architects of Saddleback Church's Daniel Plan, a program to get the world healthy through religious organizations.
Dr. Amen is the author or coauthor of more than 70 professional articles, seven book chapters, and more than 30 books, including the #1 New York Times bestsellers The Daniel Plan and Change Your Brain, Change Your Life; as well as Magnificent Mind at Any Age; Change Your Brain, Change Your Body; Use Your Brain to Change Your Age; Healing ADD; The Brain Warrior's Way; and The Brain Warrior's Way Cookbook.
Dr. Amen has written, produced, and hosted 12 popular shows about the brain on public television. He has appeared in movies, including After the Last Round and The Crash Reel, and in Emmy-winning television shows, such as The Truth about Drinking and The Dr. Oz Show. He was a consultant on the movie Concussion, starring Will Smith.
Feel Better Fast and Make It Last by Daniel Amen, MD
ISBN: 978-1-4964-2565-2
Hardcover: $25.99
November 2018 release
TyndaleMomentum.com
Tyndale House Publishers, founded in 1962, is one of the largest privately held Christian publishers of books, Bibles, and digital media in the world. Tyndale Momentum, Tyndale's nonfiction imprint, is the publisher of many New York Times bestsellers and is known for integrity in building lasting personal relationships with authors and agents. Tyndale extends the ministry of its authors by contributing most of its profits to the nonprofit Tyndale House Foundation, which makes grants to help meet the physical and spiritual needs of people around the world. Originally founded to publish The Living Bible, a contemporary paraphrase of the Bible that became a global publishing phenomenon, Tyndale now publishes the Holy Bible, New Living Translation (NLT), the translation of choice for millions of people.
For more information or for media inquiries, please contact:  Todd Starowitz, toddstarowitz@tyndale.com.