Rashad Jennings' book tour for "The IF
In Life" announced
Former NFL Running Back and Dancing with the Stars Champion Rashad Jennings To Appear in Virginia, New York City, New Jersey, Los Angeles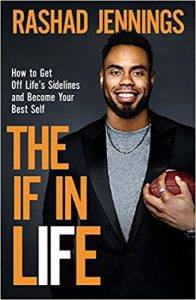 Grand Rapids, MI – April 19, 2018 – During the tour for his debut book, The IF in Life: How to Get Off Life's Sidelines and Become Your Best Self, former NFL running back and Dancing with the Stars Season 24 champion Rashad Jennings will share his inspiring story with fans across America in early May. Jennings will kick off his tour at his alma mater Liberty University during a special event open to students and the public.
May 4: Convocation at Liberty University, Lynchburg, VA 10:30 am speaking and signing
May 4: Barnes & Noble at Liberty University, Lynchburg, VA 6 pm, signing
May 8: The NFL Experience, Times Square, New York City 12-2 pm, signing
May 9: Bookends, 211 E Ridgewood Ave. Ridgewood, NJ 6 pm, signing
May 13: Thomas Road Baptist Church, 1 Mountain View Rd. Lynchburg, VA 9 & 11 am services, speaking, Q&A and signing; appearing with his mother on Mother's Day
May 17: Barnes & Noble at The Grove, 189 The Grove Drive, Los Angeles, 7 pm, signing and Q&A
More details about the tour can be found here: www.theifinlifebook.com
Fans can follow the tour on social media, looking for #TheIfInLifeBook.
Growing up, Jennings was overweight, had poor vision, suffered from debilitating asthma, and held a 0.6 GPA—yet he still hoped to one day play in the NFL as a running back. To say the odds were stacked against him is an understatement. Through hard work and determination, encouragement and tough love from his brothers and coaches, and the support of mentors too numerous to count, Jennings became a record-setting NFL running back. During his eight-year NFL career, he played with the Jacksonville Jaguars, the Oakland Raiders, and the New York Giants. And now, through the Rashad Jennings Foundation, Jennings is focused on inspiring youth by making education an enjoyable experience, providing mentorship, and encouraging an overall healthy lifestyle.
"Whether you realize it or not, certain moments in life, no matter how significant or small they seem, can change your path and have a positive impact on where you go and how successful you become," said Jennings. "The IF in Life is about those "IF" moments that have shaped the man I've become and brought about the realization of my dreams. My hope for this book is that it brings motivation and inspires young people to become their best self."
Featuring photos from Rashad's childhood, college years, and professional career, The IF in Life will be available online and in stores on May 8, 2018. The book is available for pre-orders now.
About the Author:  Rashad Jennings is a national personality. Throughout his successful eight-year career in the NFL, as well as his championship performance on ABC's Dancing with the Stars, Jennings has gained the love and support of fans across the country. Today, Jennings is driven to make a national impact and lasting legacy. The Rashad Jennings Foundation is dedicated to inspiring youth by making education fun, providing mentorship for individual success and promoting health and fitness. Follow Rashad on Twitter, Instagram, Snapchat and Facebook, @rashadjennings.
Zondervan, part of HarperCollins, is a world-leading provider of Christian communications and delivers transformational Christian experiences through its bestselling Bibles, books, curriculum, academic resources and digital products. The Company's products are sold worldwide and translated into nearly 200 languages. Zondervan offices are located in Grand Rapids, MI. For additional information, please visit www.zondervan.com.
Media Contact: Jessica Westra, Public Relations Associate
jessica.westra@harpercollins.com 616.698.3208, 616.403.6628