"Raising White Kids: Bringing Up Children in a Racially Unjust America" is NYT bestseller
Jennifer Harvey's book debuts at #9 on the New York Times paperback bestseller list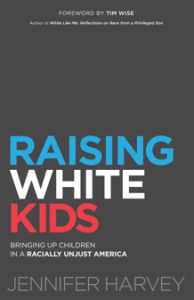 (Nashville, Tenn.)—The murder of George Floyd and the outrage and protests it ignited worldwide initiated a long overdue awakening to systemic racism. The nation is recognizing it is not enough to not be racist. We must be anti-racist. A call for education and action created strong interest in books on race which are now dominating bestseller lists.
"Most white Americans didn't get from our own families the concrete teaching and modeling we needed to be active in the work of racial justice ourselves, let alone to feel equipped now to talk about race with and teach anti-racism to our children. There is so much we need to learn and it's urgent that we do so. But the good news is: we can," says Jennifer Harvey.
With this increased interest and high-profile media appearances by author Jennifer Harvey, Raising White Kids: Bringing Up Children in a Racially Unjust America (9781501878077, Abingdon Press), will debut at #9 on the New York Times paperback bestseller list the week of June 21, 2020.
"The murder of George Floyd is a vivid example of entrenched white privilege and anti-black bias in the United States," said Rev. Brian Milford, Publisher, Abingdon Press. "All Christians are called to resist evil and injustice. Reshaping views on race requires holy boldness. Raising all kids to embrace love with justice demands that we raise white kids differently. Jennifer Harvey shows us how."
"I'm an African-American pastor serving a predominately white church. When congregants at my church ask for a resource to help with conversations around race with their children, Jennifer Harvey's Raising White Kids is #1 on my list," said Rev. Justin Coleman, Senior Pastor, University United Methodist Church. "Harvey helps adults to name difficult realities around race in a way that is gritty, age-appropriate, and restorative. I wish every white parent or guardian could have this book in their hands."
About the Book
Parents and educators question what they can do to raise able and active anti-racist allies. Raising White Kids answers those questions and many more, offering age-appropriate insights for teaching children how to address racism when they encounter it. Harvey tackles tough questions about how to help white kids be mindful of racial relations while understanding their own identity and the role they can play for justice.
Living in a racially unjust and deeply segregated nation creates unique conundrums for white children that begin early in life and impact development in powerful ways. Raising White Kids is ideal for parents, educators, and communities who want a better future for all children.
Jennifer Harvey in the media
Dr. Jennifer Harvey is a writer, speaker, and professor at Drake University. Her work focuses on racial justice and white anti-racism. Her most recent book, Raising White Kids: Bringing Up Children in a Racially Unjust America, is published by Abingdon Press. Dr. Harvey also contributes to The New York Times and Huffington Post and is ordained in the American Baptist Churches (U.S.A.). She lives in Des Moines, Iowa. Visit RaisingWhiteKids.com.
Read the Introduction to Raising White Kids
Abingdon Press is the primary publishing imprint for The United Methodist Publishing House and has a tradition of crossing denominational boundaries with thought-provoking and inspirational books. Abingdon Press titles include a wide array of quality Bibles, Bible studies, small group studies, Christian living, devotional, academic, professional, and reference titles published each year to enrich church communities across the globe. Visit AbingdonPress.com.
Contact: Elizabeth Pruitt, Abingdon Press, EPruitt@AbingdonPress.com