Rabbit Room Press to release second volume of "Every Moment Holy" with new prayers and liturgies for everyday life on the subjects of death, grief, and hope
Critically-Acclaimed Series "Every Moment Holy" to Release Volume II: Death, Grief, & Hope on February 12th for the Lenten Season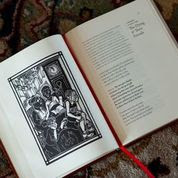 Nashville, TN – Rabbit Room Press is releasing a brand new volume of EVERY MOMENT HOLY, titled Death, Grief, & Hope. This new book of prayers and liturgies releasing in February is written for seasons of dying and grieving. The book contains over 100 prayers including those for "the Scattering of Ashes," "the Loss of a Spouse," "the Wake of a National Tragedy," "Embracing Both Joy & Sorrow," and many more.
EVERY MOMENT HOLY was written as a series of liturgies and prayers for the ordinary events of daily life. Authored by Douglas McKelvey and illustrated by Ned Bustard, the project began as a single hardcover volume, released in 2017, and a pocket edition of that same volume, released in 2020. On February 12, Rabbit Room Press is releasing EVERY MOMENT HOLY VOLUME II: Death, Grief, & Hope. This new book of prayers and liturgies are written for seasons of dying and grieving and will arrive in time for the Lenten season.
"These prayers are ways of reminding us that our lives are filled with sacred purpose and eternal hopes even when, especially when, suffering and pain threaten to overwhelm us," says Rabbit Room Executive Director Pete Peterson. "It's hoped that the liturgies in the Every Moment Holy series will serve as prayers to encourage readers in practicing mindfulness of the constant presence of God and draw them toward greater recognition of the eternal echoes resounding in every moment of our lives."
Featured in a 2-part series on FamilyLife Today, Every Moment Holy author Douglas McKelvey says of the book, "These prayers and liturgies are offered in light of eternal hope—encouraging us to give ourselves more fully to the experience of our present sorrows in light of those unshakeable joys to come, to better learn what it means to nurture, serve, encourage, and carry one another, and ultimately to reclaim a greater sense that these journeys of dying, caretaking, and grieving are holy moments to be experienced in communion with God, and in fellowship with one another, just as any other facet of our discipleship."
Every Moment Holy will be available February 12th, 2021 through Rabbit Room Press and www.EveryMomentHoly.com.
To schedule an interview with author Douglas McKelvey, please contact: Leslie E. Thompson – Rogue Creative Marketing & Media, Leslie@roguecreativemarketing.com  OR Lori Heiselman – Biscuit Media Group, 714-553-5181, Lori@BiscuitMediaGroup.com
EVERY MOMENT HOLY LINKS: