R.H. Boyd Publishing hosts virtual Vision Conference on June 17-19
VISION CONFERENCE: THE VIRTUAL EXPERIENCE
Empowering Forward-Thinking Leaders for Today and Tomorrow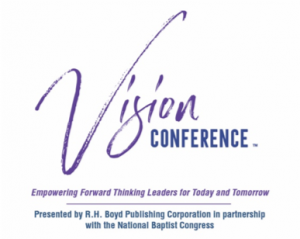 NASHVILLE, TN—June 10, 2020—R.H. Boyd Publishing Corp. will host our newly launched Vision Conference™ in conjunction with the 114th Annual Session of the National Baptist Congress June 17–19, 2020. The conference is a premier leadership event, providing a multitude of resources, including strategy sessions, author services, sermons, workshops, and continuing education credits for seminary and secular employment requirements. We are also pleased to announce our new partnership with Northern Seminary.
Due to the COVID-19 pandemic, the Vision Conference™ will be a virtual experience. Our theme, "Seeing Clearly Through Christ," is based on Habakkuk 2:2–3. This three-day online event will consist of a series of informative and enlightening events on a variety of digital platforms—videos, live prayer calls, webinars, online courses, and more.
"Even though the conference will not be in person this year, thankfully technology will allow us to congregate and continue a tradition instituted by my great-great grandfather during the early 20th Century," explained Ms. LaDonna Boyd, president/CEO of R.H. Boyd Publishing Corporation. "Dr. R.H. Boyd used the innovative techniques of his day to bring information to people, and we are doing the same in the fifth generation of leadership."
Registration for the Vision Conference is complimentary but required through our website, www.visionconference.org.  Once logged in, attendees have the option to choose the seminars or sessions they would like to attend. Each workshop has designated time slots. Most of the events will be live and will allow for interaction, and others will be pre-recorded. One of the sessions expected to generate a great deal of interest is Church Forsaken: Practicing Presence in Neglected Neighborhoods offered by Northern Seminary.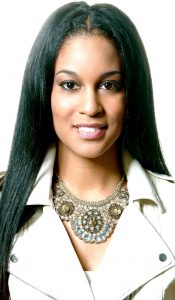 Guest presenters and facilitators include: LaDonna Boyd, Dr. Freddie Haynes, Pastor Ralph West, Dr. John Faison, Sr., Dr. Neichelle Guidry, Rev. Olivia Cloud, Dr. T. L. Brown, Dr. William Shiell, Dr. Gerald Dew, Dr. Marlon Coleman, Dr. Pamela Hardy, and more.
Donations are encouraged via Givelify (R.H. Boyd, Nashville, TN) to support the Boyd Family Endowment Scholarship program, which offers scholarships to HBCU students, as well as grants to community organizations. During the conference, the annual Youth Oratorical Competition will take place through online submissions. Winners will receive scholarships to pursue higher education. Eligibility requirements include being a current high school junior or senior, or college freshman with a 3.0 GPA. The topic of the three-minute presentation is the conference theme.
Please visit visionconference.org for a complete schedule and follow us on Instagram @visionconference_official for additional details.
Contact: Monique Gooch, (615) 350-8000 marketing@rhboyd.com