R.H. Boyd celebrates 125th Anniversary
Empowering Forward-Thinking Leaders for Today and Tomorrow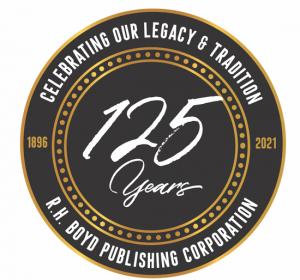 NASHVILLE, TN—March 3, 2021 — R.H. Boyd Publishing Corp. celebrates 125 years of service and five generations of leadership this year. Founded in 1896 by Rev. Dr. Richard Henry Boyd, the R.H. Boyd Publishing Corporation continues to be a beacon of excellence in the printing, publishing, and global distribution of Christian materials and church supplies under its fifth president/CEO, LaDonna Boyd.
R.H. Boyd Publishing Corporation has a longstanding tradition of producing, publishing, and distributing biblically sound and culturally relevant Christian education resources, materials, and church. Since its inception in 1896, R.H. Boyd has taken great pride in meeting the needs of all Christians, with a targeted focus on the needs of the African-American community. The company works with thousands of churches, pastors, bookstores, distributors, seminaries, authors, and conference attendees that trust R.H. Boyd with their church, business, non-profit, and personal faith needs.
R.H. Boyd now offers services for authors to publish and print their work through Torchbearer Press. Our boutique publishing entity offers publishing solutions and editorial services using by vetted industry professionals, professional cover design and formatting, promotional product design, printing, and much more! Please visit our website www.rhboyd.com for more information.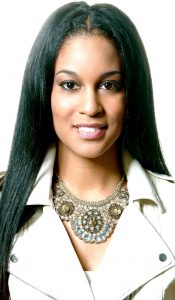 The R.H. Boyd Publishing Corporation has been under new leadership since 2017. After guiding the trajectory of R.H. Boyd Publishing for four decades, Dr. T. B. Boyd III retired on October 27, 2017, and passed the mantle of leadership to eldest daughter LaDonna Boyd, who had been serving the company as chief operating officer. "It is a privilege to be in business for five generations. Most family-run companies don't make it past two," says Ms. Boyd. "It is an honor to carry on the legacy of my ancestors, spreading the message of Jesus Christ through the written word," Boyd explained. "We are committed to being a leader in providing Christian and inspirational resources for churches and communities across the country."
As the fifth-generation president/CEO of the R.H. Boyd family of companies, LaDonna Boyd is very innovative. She has a passion for creating opportunities for underserved communities, providing educational resources for women and girls, and environmental and conservation efforts. An alumna of Spelman College, earning a bachelor's degree in economics, Ms. Boyd earned a Master of Business Administration with a concentration in finance from Tennessee State University.
"I stand as the proud leader of an organization that has lent its voice to positively uplifting the narrative of Black people." Ms. Boyd further explained that there is no greater time than the present to become a storyteller and shape the narrative of this experience. "Through R.H. Boyd, we have a multitude of resources that showcase the beauty and diversity of the Black voice. Since its founding by my great-great-grandfather in 1896, we have been an active supporter and participant in the liberation of our people. Having been fortunate to endure for five generations, now is not the time to rest on our laurels."

The vision for R.H. Boyd going forward is to be a leading voice for storytelling through print, multimedia channels, data collection, events, and servicing as industry experts. R.H. Boyd is also positioned to lift the voices addressing social concerns and social injustices, along with providing Christian education, commercial printing, and educational resources such as the Vision Conference, an annual leadership and training conference which is a premier leadership event, providing a multitude of resources, including strategy sessions, author services, sermons, workshops, and continuing education credits for seminary and secular employment requirements.
"I hope that in the next 125 years we continue to be authentic in our narrative and are not fighting the same battles (racism, sexism, equal rights) as our forebears."
Please visit rhboyd.com for more R.H. Boyd history and follow us on social media @rhboydco for additional facts and features.
Contact: Monique Gooch, (615) 350-8000 marketing@rhboyd.com