Publishing's hottest topics and trends explored
at PubU; Early bird rate ends Wednesday
From Audio, Amazon, and Authors… to Readers, Retail, Research, and more!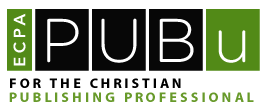 ECPA's Publishing University (PubU), held November 6-7 at Lipscomb University in Nashville, will gather industry professionals for training, connection, and inspiration around the hot topics in publishing today, within the context of Christian publishing.Attendees can choose among 42 sessions led by industry experts to customize their professional training around 6 tracks based on publishing roles.  In addition, plenary sessions with coach and consultant Donald Miller (StoryBrand) and industry forecast guru Kristen McLean (NPD) will both inform and inspire.
Here are some of the "hot topic" sessions offered at PubU:
AUDIO:
Trends on the New Audio Frontier
Growing Christian Audio
How Readers are Becoming Listeners
Audio Book Strategies for rights professionals
AUTHORS:
Tough Conversations with your Authors
Competing with the Indie Author Revolution
5 Insights to Supercharge Your Authors
Coaching Authors to Success
Author Perspectives on Rights
BIBLE:
SEO and the Bible: Engaging Curious Readers Online
Content Partnerships with the YouVersion Bible App
Designing the ESV Illuminated Bible
Bible Licensing
READERS:
Creating a Community of Readers
Customer Journey Mapping
Case Studies in Consumer Engagement
Social Media Strategies for Reader Engagement
Clarifying Your Brand Message through StoryBrand
RETAIL:
Current Trends in Mass, Club, and Grocery Channels
How to Boost Sales at Amazon for Free
Tracking Data and Third-Party Sellers on Retailer Websites
How IG and FB can help you sell more books
RESEARCH:
Understanding Readers through New Research Tools
What Neurological Research Tells Designers & Editors
NPD consumer data on The Future of Retail and Faith
Training on the new NPD BookScan Interface
TECHNOLOGY:
Using AI in Manuscript Development & Production
Making Digital Videos that Sell Books
5 Essentials for Building Effective Book Websites
Digital Tools for Contracts & Communication
Metadata: What to expect in 2019 and beyond
New Innovations in Digital that Drive Sales of Print
View all the PubU sessions and register at ECPAPubU.org
REGISTER BY WEDNESDAY, SEP. 12, TO SAVE THE MOST!
The PubU early bird registration ends next week on September 12 and offers $200 savings off your registration!
STAY FOR THE ART OF WRITING AND THE CHRISTY AWARD GALA IMMEDIATELY FOLLOWING ON NOV. 7
All PubU attendees are encouraged to stay for the afternoon and evening events on November 7, immediately following PubU: The Art of Writing Conference and The Christy Award™ Dinner Gala. These events gather the industry's creatives and curators and will feature Francine Rivers, Charles Martin, Jerry Jenkins, Donald Miller, Sarah Arthur, Carla Laureano, Joanne Bischof, Cynthia Ruchti, Amy Green, Beth Adams, and more.
PubU ATTENDEES ELIGIBLE FOR DEEP DISCOUNTS AT THESE INDUSTRY EVENTS:
85% off — Digital Book World, Oct. 2-4, Nashville
50% off — WriterFest Nashville, Nov. 8-9, Lipscomb Univ.
Contact ECPA for details.