Publishing in Color conference coming to Nashville
A Spiritual Writers' Conference for Under-represented Groups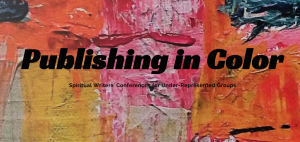 Publishing in Color is a series of conferences for groups of spiritual writers of color who are currently under-represented in terms of getting  published. These include, but are not limited to, African Americans, Asian Americans, Latino Americans and Native Americans.
Registration is now open for Publishing in Color Nashville scheduled for Saturday, October 19, 2019. A pre-conference session, The Business of Being a Spiritual Writer, will be held the day before on Friday, October 18.
The conference will emphasize networking, relationship building and learning "how to get published." Participating companies will be accepting book proposals. This is your chance to meet acquisition editors and other key representatives from:
Abingdon Press
HarperCollins
Thomas Nelson
Westminster John Knox Press
Upper Room Books
Harambee Press
Jevon Bolden, literary agent
The goals of these conferences are to:
Foster relationships between spiritual writers of color and representatives of spiritual book publishing companies and spiritual magazines
Provide networking and educational opportunities so that prospective writers can learn more about how to work with these publishers and magazines
Result in an increased number of books and articles published by writers of color
People of color have important stories to tell that shape the great American narrative. Heroic struggles for justice; incredible contributions to technology, science and the arts; remarkable resistance and resilience are hallmarks of these stories.
The Publishing in Color conference series is sponsored by Writing for Your Life. They also produce Writing for Your Life conferences, which feature more authors than Publishing in Color conferences and are more focused on the art and craft of writing and less on getting published.
Learn more and register here.
Writing For Your Life
https://writingforyourlife.com
Publishing in Color
https://publishingincolor.com
Enliven Your Tribe!
https://enlivenyourtribe.com