"Psalms in 30 Days" released to strong demand; First printing sells out in under 30 days
NEW DEVOTIONAL, EDITED BY TREVIN WAX, GOES BACK TO PRESS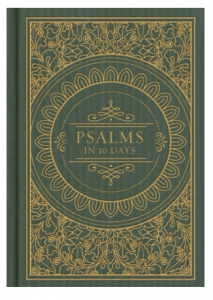 NASHVILLE, TN (December 17, 2021) — Holman Bible Publishers announces that the first printing of a new hardcover devotional, Psalms in 30 Days: CSB Edition, has sold out in less than 30 days. Demand for the embossed, hardcover prayer guide has been powerful, and the publisher has ordered a second printing which will arrive in 2022.
Author and Bible teacher Trevin Wax edited Psalms in 30 Days: CSB Edition, a unique guide to praying the Psalms over the course of a month. All 150 Psalms are presented in thrice-daily readings, paired with songs from Scripture, confessions of faith and ancient prayers of the faithful.
"I'm so glad to see how well received the first printing of Psalms in 30 Days has been— to see it in so many hands and homes," says editor Trevin Wax, vice president of research and resource development at the North American Mission Board and a visiting professor at Wheaton College. "My hope is that this prayer journey will result in the psalms being pressed into our hearts, so that we come to know and love God more."
"Reader reception for Psalms in 30 Days has been overwhelmingly enthusiastic," says Andy McLean, Publisher, Holman Bible and Reference. "We knew walking into this project that the Psalms have this unique ability to speak both to us and for us in difficult times, which is partly why we wanted to publish a resource with Trevin that would provide a guided reading and prayer journey through the Psalms in 30 days. Over the course of that 30-day journey, participants get to share in a common practice done throughout church history by turning to this ancient songbook and letting its individual prayers and petitions, historical reflections, and theological overtones to fill their hearts and minds, allowing God's Word to encourage, offer grace, and speak directly to any fears during this time."
The Christian Standard Bible (CSB) is a highly trustworthy, faithful translation that is proven to be an optimal blend of accuracy and readability. It's as literal to the original as possible without sacrificing clarity. The CSB is poised to become the translation that pastors rely on and Bible readers turn to again and again to read and to share with others.
Holman Bibles is the oldest Bible publisher in North America, publishing high quality Bibles and reference resources that are trustworthy, accessible, and useful for the pursuit of lifelong discipleship. Print and digital releases include the CSB Tony Evans Study Bible as well as the Tony Evans One Volume Commentary, The She Reads Truth Bible, and the Rainbow Study Bible with over 3 million copies sold. Holman Bibles is a subsidiary of B&H Publishing Group.
Media Contact: Pamela McClure, 615-294-5073 Pamela@mmpublicrelations.com