Popular novelist Jon Coon returns with exciting new
public safety / police diver thriller
Well-known dive industry professional author Jon Coon has released his latest novel Ghost River. This highly anticipated book promises to give fiction readers a crime-thrilling, suspenseful and authentic summer read.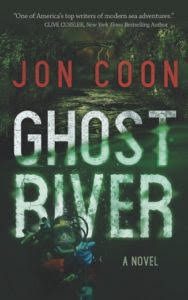 Ghost River is the thrilling supernatural story of badly constructed bridges based on actual events of collapsed bridges. It follows the impact of an underwater criminal investigator whose partner is murdered and whose life is threatened when he discovers a multistate conspiracy responsible for bridge failures and several deaths.
"One of America's top writers of modern sea adventures," wrote Clive Cussler, New York Times best-selling fiction author.
An article in the 2014 Journal of Rock Mechanics and Geotechnical Engineering reported, "In the last thirty years over six hundred bridges have collapsed or failed due to scour (erosion) problems." A brief survey of those failures reveals faulty engineering and poor construction played major roles in several of those failures, resulting in many deaths. Because of those deaths, states were forced to create bridge inspection teams, who discovered numerous bridges desperately in need of repair. The discoveries made by those dive teams in turn saved many lives.
Public safety and police diving, for many years, had the highest number of fatalities of any technical or commercial aspect of diving. Diving frequently under extremely adverse conditions and all too often without proper comprehensive training, many divers were lost not because of the complexity of the missions or the adversity of the environment but because of the lack of basic dive skills.
Ghost River was written as a tribute to the very few, highly competent instructors who made it their life's calling to provide the training necessary to keep those divers alive. The book does so by accurately describing the demands of the job and the risks divers may face all while providing an exciting story full of twists and turns from beginning to end.
Senior members of the dive community will fondly remember the adventures of Doc Holiday, the former SEAL who went to Bermuda to rescue his kidnapped daughter and in the process became entangled in a web of archaeological subterfuge and deadly drug smuggling. Jon's first two books, Thief of the Deep and its sequel Blackwolf, set in the Cayman Islands, became industry favorites, selling thousands of copies. Ghost River will not disappoint.
About the Author
Jon recently retired after twenty-nine years as a PADI regional manager, former commercial and scientific DSO, who specialized in explosives work in salvage diving and worked on scientific and archaeological projects internationally. Jon and his wife Rachel live in South Carolina and are active in church, Rotary, pickle ball, and golf. Your comments about the book will be greatly appreciated.
Media Contacts:
Bradley Isbell, Bradley.Isbell@IronStreamMedia.com
Tina Atchenson, Tina.Atchenson@IronStreamMedia.com
---
Advance Praise for Ghost River
"Jon has a way of taking underwater criminal investigations with all the dangers, challenges, as well as the glory to a level that takes the reader on a suspenseful, heart-pounding adventure. . . . You're about to get a glimpse of the life of a true diving professional, an underwater criminal investigator. Enjoy the ride!" —Michael Berry, first sergeant/dive team coordinator, Virginia State Police
"A gritty, emotionally immersive and addictive journey forcing the reader to confront the best and the worst of the human experience. Ghost River plunges us across the membrane separating the natural and supernatural psychic consciousness. This is Jon Coon's best work—a provocative and disruptive journey shrouded in mystery, heroism, and suspense from the start and on the level of the best works from the likes of Clancy, Christie, Fleming, and Daniel Woodrell." —Dr. Drew Richardson, CEO and president, Professional Association of Diving Instructors (PADI), the world's largest dive training agency with more than 25 million divers certified
"Jon has captured the essence of a public safety diver while weaving a gripping story. The way he builds a tapestry of characters and gives Gabe an ability all public safety divers wished they had keeps you wanting more, page after page. If you are a diver or someone who would like a book you can't put down, Ghost River is the book for you."—Sean Harrison, senior vice president, Scuba Diving International (SDI), Technical Diving International (TDI), Emergency Response Diving International (ERDI)
"Ghost River is an intense, fast-paced thriller, taking the reader into the dark and dangerous world of the underwater criminal investigator. But this investigator has an extraordinary, if terrifying, gift—the drowned corpses he finds tell him their grisly stories, and they lead him to a trail of corruption and murder. Jon Coon's intimate knowledge of this specialist world makes every page ring true and lends a compelling authenticity to an extraordinary and gripping tale." —Mark Caney, industry relations and training executive, PADI Worldwide, and author of Dolphin Way: Rise of the Guardians
"Ghost River is a thought-provoking thriller, balancing heart-pounding action with the personal and spiritual journey of police diver Gabe Jones, a flawed yet devout man whose gift of speaking to the dead gives him a professional edge at the expense of his relationships with the living. A former commercial oil field diver and dive safety officer for NASA, author Jon Coon uses his diving expertise to immerse the reader in a complex tale as dark and dangerous as the river that gives the book its name." —Jaden Terrell, internationally published author of the Jared McKean private detective series and past president of the Southeast chapter of Mystery Writers of America
---
Praise for Jon's previous work Thief of the Deep:
"With Thief of the Deep, Jon Coon has established himself as one of America's top writers of modern sea adventure. A great tale with suspense and romance at every turn." —Clive Cussler, New York Times best-selling author
"The best diving fiction I've read in years . . . Hopefully there's more to come . . . I'm waiting." —AquaCORPS journal
"A complex plot involving underwater raiders . . . and a state-of-the art submarine . . . the drama is tense." —Publishers Weekly
"Jon Coon knows his diving. He tells a rattling good yarn . . . a thoroughly good read." —Sport Diver magazine
---
General Questions / Talking Points:
What gave you the idea for this book?
The six hundred bridge failures in the past thirty years.
Just how dangerous is public safety diving?
There are more fatalities in public safety diving than in any other technical diving activity, including cave diving.
What can we do to be certain our bridges are safe?
Demand inspections on a frequent basis, and make certain dive teams are well funded and professionally trained.
Why did you include mention of Marie Laveau?
I'm a former resident of New Orleans and was fascinated with her history, especially her deep Catholic faith and work as a healer during the frequent health threats that hit the city. It felt natural that a relative would be continuing her legacy.
After your descriptions of the dives in Ghost River why would any sane person become an underwater criminal investigator?
It's the opportunity to serve in a way that very few can. It's often grim, but bringing justice or simply closure provides peace in many troubled lives and lets families move on.