Pat Robertson offers inside look at life and career
in new book with Charisma House
Charisma House To Publish the New Book by the Christian Broadcasting Network Founder:  I Have Walked With The Living God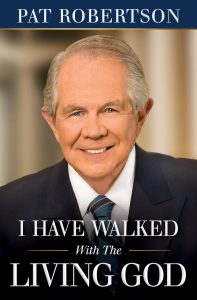 LAKE MARY, FL (January 29, 2020) — Today, Charisma House announces the May 5, 2020 release of I Have Walked With the Living God, (ISBN: 978-1-62999-873-2) by the renowned founder of the Christian Broadcasting Network and 700 Club, Pat Robertson.
For those who have witnessed Mr. Robertson's rise as a key Christian voice in the United States and worldwide and ever wondered, "how did he do it?", I Have Walked With The Living God promises an inside look.
From growing up as the son of a U.S. Senator, and then to becoming a Marine Lieutenant in the Korean War, a Yale Law grad, a seminary student, and the founder of the first Christian cable network in the U.S., Robertson tells his life story and the path that God led him down with intriguing candor and mesmerizing storytelling.
In the soon-to-be-released book, Robertson explores, with what only age and wisdom can articulate, his ninety years on earth and how God has spoken to and directed his every step.
Said Robertson, "Writing I Have Walked With the Living God has been a very personal journey for me. Recounting the ways God has guided me, solidifies my certainty to say 'he who causes everything to be' has never failed me once. He is the Anchor of my soul."
Widely known as the founder of CBN, Robertson launched the network in 1960 as the first Christian television network established in the U.S.. Today, CBN is one of the world's largest television ministries and produces programming seen in over 159 countries and territories and heard in 70 languages, including Russian, Arabic, Spanish, French, and Chinese. Beyond the scope of the network, he is also the founder of International Family Entertainment Inc., Regent University, Operation Blessing International Relief and Development Corporation, American Center for Law and Justice, and several other organizations and broadcast entities.
"For sixty years, Pat Robertson has dedicated his life to serving the body of Christ, and we are thrilled at the opportunity to help him continue to tell his story,"  explains Marcos Perez, publisher and executive vice president of Charisma House. "For all of us at Charisma, this is a great honor to publish and work with Mr. Robertson. The respect that we and the world hold for him is unparalleled."
A forerunner of the faith who brings the gospel of Jesus to the world via media, Robertson has spent decades living a life that continues to inspire generations. But of all the things he has been known for—philanthropist, national religious broadcaster, presidential candidate—Robertson wants to be known for one thing: as a man who walked with God, followed His ways, and brought Glory to the Almighty.
About Pat Robertson
Robertson is a renowned religious leader, a philanthropist, an educator, and an author. He founded The Christian Broadcasting Network, of which he is chairman and whose flagship program, The 700 Club, is one of the longest-running television programs in U.S. history. He also founded Regent University, where he is the chancellor; Operation Blessing, an international humanitarian organization; the American Center for Law and Justice; and many other organizations. Born March 22, 1930, Robertson graduated magna cum laude with a bachelor of arts from Washington and Lee, has a juris doctor from Yale University Law School and a master of divinity from New York Theological Seminary. His twenty-one books include The Secret Kingdom, which was the number one religious book in America. Pat and his wife, Dede, have four children, fourteen grandchildren, and fourteen great-grandchildren.
About Charisma House
Charisma House empowers people through Spirit-inspired resources. It is the leading publisher of diversified Christian resources motivating people to fulfill God's purpose. For more than twenty-one years Charisma House has published books, including fifteen New York Times best sellers, that challenge, encourage, teach, and equip Christians.
Media Contacts:  Chris Roslan, President, Roslan & Campion Public Relations, (212) 966-4600, ext 101 or  (917) 341-4782, chris@rc-pr.com; OR Nicole Ponder, Publicity Manager, Charisma House,
nicole.ponder@charismahouse.com