Pastor Robby Gallaty's new book with B&H shares how God radically saved him from addictions
Pastor Robby Gallaty: He isn't who you think he is
New book 'Recovered' shares how God radically saved Gallaty from addictions and called him into a life of discipleship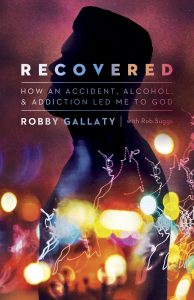 [NASHVILLE, TENN., October 7, 2019—] Robby Gallaty is most known for being the Senior Pastor of Long Hollow Baptist Church, founder of the discipleship ministry Replicate, a nationally sought-after speaker and the author of seven books. But what many don't know is that before finding God, he was addicted to drugs and alcohol, stole $15,000 from his parents to fuel his addictions and was in and out of rehab.
In his new book, "Recovered: How an Accident, Alcohol, and Addiction Led Me to God" (October 15, 2019, B&H Publishing), Gallaty finally shares the incredible story of how God radically saved him from a life of addictions and called him into a life of discipleship.
Gallaty says he penned his story not just to share the dramatic circumstances that led him to God, but also to inspire hope in readers who wonder if God is done with them, have messed up time and time again, are battling drug or alcohol addiction, have loved ones in the throes of addiction or just need to be reminded of the miraculous salvation found in the gospel.
"I've learned that sobriety without Christ is a dead-end street. My goal in 'Recovered' is to provide hope for anyone battling an addiction or anyone who knows someone currently struggling to get sober," Gallaty said. "Prayerfully, those who read this book will be empowered to live a victorious life in Christ."
Long Hollow used Gallaty's testimony to promote their Easter services in 2016, using a fake political smear campaign, "He is NOT Who You Think He Is," to grab attention through billboards throughout Nashville and create buzz around Gallaty's Easter sermon. The campaign gained national media attention and resulted in 14,000 attendees to the church's Easter services, doubling the church's normal attendance of 7,000.
David Platt, bestselling author of "Radical," discipled Gallaty in his early years of following Jesus, and wrote the foreword for "Recovered." The book also includes an addendum, "Notes for Recoverers," where Gallaty shares advice and lessons he's learned since his recovery and reminds readers that all were once in darkness and needed salvation.
B&H is supporting the launch of "Recovered" with a presale campaign, national media tour and will also give the book to key people and their ministries to use. Gallaty will be speaking at several Celebrate Recovery forums in 2020.  Endorsements include John Baker (founder of Celebrate Recovery), Alex and Stephen Kendrick, Kay Arthur, Darryl Strawberry and many others.
"Anyone who has picked up a newspaper in the last five years knows our country is in a drug-addiction crisis. As someone who has lost family members due to drug and alcohol abuse, I want to know how to get people help, and this book points not only to the physical help needed to be freed from addiction, but also to the spiritual help needed to be made new in Jesus," said Taylor Combs, Associate Publisher of Christian Living and Leadership.
For more information, visit recoveredbook.org
Robby Gallaty is the Senior Pastor of Long Hollow Baptist Church in Hendersonville, Tenn. He was radically saved out of a life of drug addiction on November 12, 2002. In 2008, he began Replicate Ministries to equip and train men and women to be disciples who make disciples. He is also the author of"Growing Up" (2013), "Firmly Planted" (2015), "Rediscovering Discipleship" (2015), "MARCS of a Disciple" (2016), "The Forgotten Jesus" (2017), "Preaching for the Rest of Us" (2018) and "Here and Now" (2019).
B&H Publishing Group, an imprint of LifeWay Christian Resources, is a team of mission minded people with a passion for taking God's Word to the world. Because we believe Every Word Matters® we seek to provide intentional, Bible-centered content that positively impacts the hearts and minds of people, inspiring them to build a lifelong relationship with Jesus Christ. Among our print and digital releases for the trade, church and academic markets, titles include "The New York Times" No. 1 bestsellers "The Love Dare" and "The Vow," No. 1 CBA bestseller "I Am a Church Member," as well as the newly-revised Christian Standard Bible (CSB) version.