Pastor explores how Jesus meets us in our mess in 'Unexpected Jesus'
Eric Rivera reveals how Jesus' questions can help us turn our eyes to Him in times of uncertainty, sorrow and joy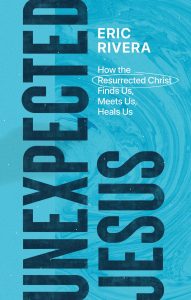 BELLINGHAM, Wash., Sept. 16, 2022 – Pastor Eric Rivera uses Jesus's appearances after his resurrection to show readers how he meets us today in his new book, "Unexpected Jesus: How the Resurrected Christ Finds Us, Meets Us, Heals Us," releasing Oct. 12 from Lexham Press.
Each chapter of "Unexpected Jesus" explores a question Jesus asked His followers—from Mary Magdalene in the garden and the disciples on the road to Emmaus to Thomas when he is full of doubt —to dive into the underlying heart issues he sought to heal both then and today.
"Those questions revealed something about people's heart condition—their mess—while at the same time infusing them with the hope that only God can give," writes Rivera. "Jesus continues to meet us in these places of grief, doubt, confusion, wandering, regret, and anger. The same kinds of questions he asked two thousand years ago are the questions he relays to us in our mess today: Why are you weeping? Do you love me? What are you doing? Why don't you believe in me? Will you trust me? Jesus's questions expose our underlying struggles and turn our eyes to Him."
Rivera interweaves deep biblical truth with his own personal experiences of God showing up amid financial uncertainty, pregnancy loss, a grim medical diagnosis within his family, and the unrest and uncertainty of 2020.
"The greatest point of comfort for me, and those I minister to, is that God loves us and is near to the brokenhearted. God is present in your pain. Jesus meets you in your mess," Rivera said. "Our struggles look different, and God ignores none of them. He invites his children to rest in Him. He invites you to do that as you read this book."
Rivera's insights will encourage readers as they look to meet God in their own times of uncertainty.
"Unexpected Jesus" releases Oct. 12 from Lexham Press. For more information, visit https://lexhampress.com/product/224273/unexpected-jesus-how-the-resurrected-christ-finds-us-meets-us-heals-us.
About Lexham Press
Lexham Press seeks to increase biblical literacy, thoughtful Christian reflection, and faithful action around the world by publishing a range of Bible study materials, scholarly works, and pastoral resources. For information, visit lexhampress.com.
About the Author
Eric Rivera is lead pastor and church planter, with his wife, Erikah, of The Brook, a multi-ethnic church in Chicago and ​​Assistant Professor of Pastoral Theology at Trinity Evangelical Divinity School. He and Erikah are national speakers for FamilyLife's Weekend To Remember marriage getaways and contributors to FamilyLife's "The Art of Parenting" video series and "The Story of Us" couples devotional. Eric is the author of "Christ is Yours: The Assurance of Salvation in the Puritan Theology of William Gouge."