Pastor and Professor Jonathan T. Pennington offers 25 tips in "Small Preaching" from Lexham Press
New Book to Revolutionize Preaching through Simple Habits, Practices and Exercises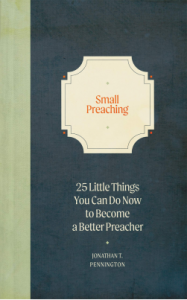 BELLINGHAM, Wash., April 28, 2021 – In a world where bigger is always better, author Jonathan T. Pennington presents a countercultural idea by challenging pastors to focus on smaller habits that produce big results over time. In his new book, "Small Preaching: 25 Little Things You Can Do Now to Make You a Better Preacher," published by Lexham Press, Pennington provides constructive teaching steps to guide pastors toward intentional and effective preaching.
In "Small Preaching," Pennington, who is an associate professor of New Testament Interpretation at The Southern Baptist Theological Seminary and is also on the preaching staff at Sojourn East in Louisville, Kentucky, walks through 25 words of wisdom that will help shape pastors' preaching for the better.
"'Small Preaching' is not a book on the philosophy or practice of preaching, but rather a collection of short, easily digestible essays which invite the reader to see the world differently," said Pennington. "The essays are dynamic and provide various approaches, topics, content and modes to challenge the reader's assumptions and habits on leadership and preaching."
Drawing on years of teaching and education, Pennington brings specific expertise to write this timely and impactful book. Hoping that small ideas can have big consequences, Pennington explains the value of playing the long and methodical game with displaying sincerity and intentionality.
"Pennington so helpfully reminds us that preaching is a 'slow art' and he pays attention to things not usually covered in traditional books on preaching, things which, nonetheless, are so much a part of the real-life of the preaching task," said Mike Bullmore, senior pastor of Crossway Community Church. "This book is stimulating and provocative, and it will make you think about your preaching. That, in turn, will bear good fruit, maybe even as soon as this coming Sunday."
Highlighted topics of discussion within "Small Preaching" include:
The Person of the Preacher,
Handling Praise Carefully and Gladly,
Handling Criticism Carefully and Humbly,
The First Minute of a Sermon,
The Last Minute of a Sermon and
Distinguishing between Preaching and Teaching.
"I hope this book helps both preachers who are just starting to hone their skills and seasoned ministers alike," said Pennington. "All [the essays] invite you to consider small changes that can add up to big effect, no matter whether you are about to start at your first church, or are an old pro. So come and start small."
To learn more about "Small Preaching" visit, https://lexhampress.com/product/197374/small-preaching-25-little-things-you-can-do-now-to-make-you-a-better-preacher.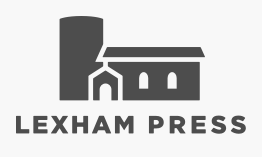 About Lexham Press
Lexham Press seeks to increase biblical literacy, thoughtful Christian reflection and faithful action around the world by publishing a range of Bible study materials, scholarly works and pastoral resources. For more information, visit https://lexhampress.com/.
About the Author
Jonathan T. Pennington is associate professor of New Testament interpretation and director of research doctoral studies at the Southern Baptist Theological Seminary. He is also a preaching pastor at Sojourn East Church in Louisville, Kentucky. Pennington is the host and co-producer of the video series Cars, Coffee, Theology and the author of numerous books, including Reading the Gospels Wisely and Jesus the Great Philosopher.
Media Contact: Brooke Lawless, 972-267-1111 brooke@alarryross.com