Paraclete Press releases new edition
of book about anger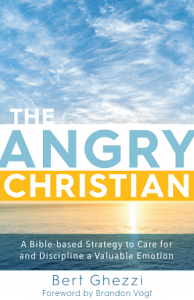 Bert Ghezzi's powerful words on anger return to the forefront with a new edition of his original The Angry Christian: A Bible-based Strategy to Care for and Discipline a Valuable Emotion (March 20, 2018 • ISBN 978-1640600393 • Hardcover • 128 pp. • $19.99).
At a time when anger rages at a high level in our society, Bert Ghezzi shows us how to control it in our own lives. He corrects the mistaken view that anger is always bad and sinful. Bert says it is a normal part of our human nature. Anger is good if we engage it to help us do the right thing and if we don't let it escalate out of hand. But it spawns evil if it gets out of control or if we use it for selfish, wrong-headed purposes. Bert explains that under the power of the Holy Spirit, we can transform our anger into occasions of grace. We can replace it with behaviors like patience, endurance, and determination to do the right thing. So anger used well can help us overcome obstacles that block our twofold mission of becoming saints and advancing and applying the Gospel.
Bert's unique approach to this issue is much needed today. Endorsers of the book include Charles J. Chaput, OFM Cap, Archbishop of Philadelphia; Dr. Ray Guarendi, and Fr. Dwight Longenecker who writes, "In this practical and pastoral little book, Bert Ghezzi walks us through a guidebook on anger, showing how anger is God's blessing not his curse. When the energy of anger is directed properly, God's power to heal and transform ourselves and our world is unleashed."
Along with the book, a new 50-minute DVD Angry and Good: A Biblical Approach will be released this month, featuring Bert Ghezzi's popular talk on the same subject: biblically-based advice on how Christians can use anger wisely, and transform anger into occasions of grace under the power of the Holy Spirit.
Bert Ghezzi is a popular author and speaker. He has written twenty books, including Voices of the Saints, and Mystics and Miracles. Hundreds of his articles have appeared in the Catholic and religious press. He has been involved in all levels of religious education for more than 40 years. He has served as a leader and teacher in several Catholic renewal movements. He appears frequently as a guest on EWTN programs. His 2-minute spots on saints play regularly on EWTN radio. He earned his PhD from the University of Notre Dame, has seven adult children and 16 grandchildren, is an active member of St. Mary Magdalen Catholic Church, and lives in Altamonte Springs, Florida. Bert is available to speak to groups or churches. If you are interested, please contact the author directly at bertghezzi@gmail.com
For an interview with Bert Ghezzi or a review copy of the book, reply to this email or contact Laura McKendree at lauram@paracletepress.com or 1-800-451-5006 ext 316. ​