Paraclete launches RAVEN Fiction Line with "The Book of Susan"
for Mental Health Awareness Month
"Profound and compulsively readable." —Silas House, author of Southernmost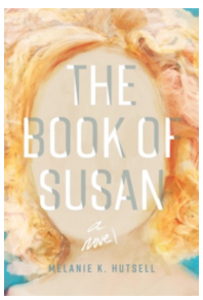 February 10, 2022 —Paraclete Press launches its new fiction imprint, RAVEN, with an important release for Mental Health Awareness month: The Book of Susan (ISBN 978-1-64060-767-5 | May 10, 2022 | Trade paperback | 224 pp | $18.00) by Melanie K. Hutsell. Author Melanie K. Hutsell lives with bipolar disorder, so The Book of Susan is more than a novel: it's a mirror of the author's own story.  
Hutsell offers a first person narrative of Dr. Susan Huffman, a woman whose mind has never failed her—until an ill-fated dinner party. Dr. Susan Huffman is wife to chancery court judge Samuel Ellison, mother to adorable Ian, and college professor on track for tenure. She's a woman who has always lived by her mind, with a plan and a purpose. But then new-in-town Lorraine Davis accepts an invitation to Susan and Samuel's home, and the mysterious visions begin. Is God warning Susan about this newcomer? And if so, how can she protect her circle of friends, her family, and her life as she knows it? The Book of Susan is the spare and sympathetic recounting of a journey—from derailment, to diagnosis, to the discovery of a lifetime. 
A native of east Tennessee, poet and novelist Melanie K. Hutsell has been learning to live with bipolar disorder for more than fifteen years. She holds a BA in English from the University of North Carolina at Chapel Hill, an MA in English from Indiana University at Bloomington, and an MBA from East Tennessee State University. A lay member of the United Methodist Church, an avid reader, and music lover, she currently resides in Oak Ridge, Tennessee. 
For interviews with Melanie K. Hutsell or advance review copies of "The Book of Susan," contact Publicist Rachel McKendree at rachelm@paracletepress.com. 
The past two years have taken a toll on humanity in ways that would have been unimaginable in the pre-pandemic world. The publishing industry especially has played an essential role in meeting the needs of a readership hungry for understanding and insight. At this crucial moment, Paraclete Press is pleased to announce its new fiction imprint: Raven.
Great fiction costs something––it costs the writer who makes it, and it costs those who read it. A great novel is willing to expose the dark side of human nature; it doesn't skirt the issues of manipulation, power, injustice, oppression, jealousy, evil; it authentically gives texture and substance to characters that resonate with us as real human beings. Without darkness, there's no light. Genres may vary. In every case, we appreciate stories of day-to-day realism but also mind-bending science fiction, stimulating fantasy parables, and nearly dehumanizing horror. These stories startle and perturb us into fresh realizations of truth in a complex modern world. Like a mirror, these stories reflect our lives, marked by doubt and pain, and engage our imagination, challenge our expectations, and throw us out of the familiar into the unknown and uncomfortable. Then we find ourselves surprised and awed—by new encounters, by hope and unexpected goodness, and by astonishing beauty.
---
PRAISE FOR The Book of Susan by Melanie K. Hutsell
(ISBN 978-1-64060-767-5 | May 10, 2022 | Trade paperback | 224 pp | $18.00) 
"In The Book of Susan, Hutsell takes the mysteries of the highs and lows of bi-polar illness and skillfully intertwines them on the page. Written from the unique perspective of Susan—the one who discovers her diagnosis—it's a page-turner of story and yet a book to be slowly studied for the genuine wisdom it reveals."  —Katherine James, author of Can You See Anything Now? and A Prayer for Orion
"Profound and compulsively readable, The Book of Susan complexifies typical notions of Appalachia and offers us an unforgettable character in lyrical and accessible prose. Hutsell is a literary stylist who knows how to keep the reader in her grip." —Silas House, author of Southernmost
"A riveting first-person account of a woman's realization that she suffers from Bipolar I disorder. Hutsell's protagonist accepts, overcomes, and reinvents her life through her newfound faith, discovered quite by accident due to the disease's delusions. 'God fled me on those days,' she tells us when her illness begins to tear apart her carefully planned life. But Susan emerges transformed, and without sanctimony gives an account of the power of spiritual seeking to pick up the shattered pieces of life. Anyone who encounters a mental disorder in themselves or a loved one will be gripped by this powerful, raw, honest and intriguing voice." —Rita Sims Quillen, author of Wayland