Pam Tebow to publish first book, "Ripple Effects,"
with Tyndale Momentum in 2019
Popular Speaker Pens Book about Using Influence to Eternally Impact the World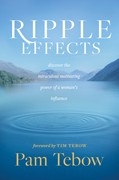 Carol Stream, Ill. (September 5, 2018) — Tyndale House Publishers (@tyndalehouse) announced today that debut author Pam Tebow will publish Ripple Effects in May 2019 with Tyndale Momentum (ISBN: 978-1-4964-3131-8, $25.99, HC). In her book, Tebow uncovers and explores the motivating power of influence that each of us has on this generation and the next, no matter where we are planted in life. The book's release, just in advance of Mother's Day, will include a significant marketing budget as well as a national media tour. Her son, Tim Tebow, will join her for select appearances.
Tim credits his mom with being the key to his success—but Pam never expected that she would be known on a national stage. In her book, Pam instructs us on the difference we can make in the world, using the key we never knew we had—our influence. For most of her life, she was serving quietly and faithfully as a wife and a mom—choosing life for her child in the face of medical risks, answering the Lord's call to mission work in the Philippines, and homeschooling before anyone knew what the word meant. But all along the way, her experiences—and her consistent, everyday choices to follow the Lord and to serve wherever He placed her—were creating unexpected ripples of influence throughout her family, her community, and her world. And they would end up extending far beyond anything she ever imagined.
Pam believes that every one of us can be influential—and that deep within a woman's heart is the desire to use her influence for good. Pam encourages her readers to maximize their God-given opportunities for influence—and watch how far the ripples will spread.
Regarding this acquisition, associate publisher Sarah Atkinson said, "The first time I met Pam, I realized, This is someone with a special gift. Pam makes everyone she encounters—no matter who they are—feel valued, lifted up, and inspired. She simply exudes joy! You walk away from an encounter with Pam feeling like you can make a difference in the world. And that's what her debut book, Ripple Effects, is all about. Sharing personal stories from her life and family, Pam speaks from the heart to equip other women to use their God-given influence to impact the world around them. It is an absolute privilege to bring Pam's first book to the world, with the message that has made her such an incomparable wife, mother, speaker, and leader."
Additionally, executive publisher Jan Long Harris shared, "What a privilege it is to partner with Pam Tebow on the book of her heart. Ripple Effects is both the story of how Pam discovered and used (ever so gently) the power of positive influence and an encouraging call to action for the rest of us. No matter who we are, where we are, or how insignificant we might be tempted to think we are, we have influence that we can employ for the good of those around us. It's an important message, and Pam is a winsome messenger."
Pam Tebow travels and speaks across the country, encouraging women to use the incredible influence God has given them to eternally impact their world. She has appeared on Good Morning America and has won national awards for her ministry work. Pam graduated with honors from the College of Journalism and Communications at the University of Florida. She and her husband, Bob, live in Florida; they have five grown children and eight grandchildren.
For more information or for media inquiries, please contact Katie Dodillet, katiedodillet@tyndale.com.
Ripple Effects by Pam Tebow
ISBN: 978-1-4964-3131-8
Hardcover: $25.99
May 2019 release
TyndaleMomentum.com
Tyndale House Publishers, founded in 1962, is one of the largest privately held Christian publishers of books, Bibles, and digital media in the world. Tyndale Momentum, Tyndale's nonfiction imprint, is the publisher of many New York Times bestsellers and is known for integrity in building lasting personal relationships with authors and agents. Tyndale extends the ministry of its authors by contributing most of its profits to the nonprofit Tyndale House Foundation, which makes grants to help meet the physical and spiritual needs of people around the world. Originally founded to publish The Living Bible, a contemporary paraphrase of the Bible that became a global publishing phenomenon, Tyndale now publishes the Holy Bible, New Living Translation (NLT), the translation of choice for millions of people.