Oxford Professor John C. Lennox releases "Where is God in a Coronavirus World?"
BOOK OFFERS HOPE IN A TIME OF CHANGE AND UNCERTAINTY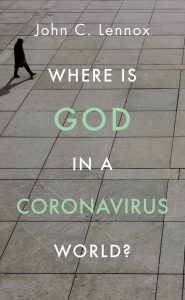 We are living through a unique, era-defining period. Many of our old certainties have gone, whatever our view of the world and whatever our beliefs. The coronavirus pandemic and its effects are perplexing and unsettling for all of us, and it has left many asking the question 'Where is God?'
Oxford University mathematics professor John Lennox has today released a short yet profound book which examines the coronavirus in light of various belief systems. Where is God in a Coronavirus World? (The Good Book Company,  April 2020) explores how a Christian worldview can help us make sense of the crisis, and offer us some comfort and hope in a time of uncertainty.
Lennox says, "This book consists of my reflections on what we are experiencing right now. I started writing it a week ago, and things have changed quickly since then and no doubt will do again … I would invite you, the reader, to view the book like this: we are sitting in a coffee shop (if only we could!) and you have asked me the question on the book cover. I put down my coffee cup and attempt to give you an honest answer.  What follows is what I would try to say in order to convey some comfort, support and hope."
Lennox has been part of numerous public debates defending the Christian faith, including with Richard Dawkins, Christopher Hitchens, and Peter Singer. He is the author of a number of books, including Can Science Explain Everything? His latest release hopes to encourage that a belief in a loving a sovereign God can help to make sense and cope with the coronavirus outbreak.
Dr Peter Saunders, CEO, International Christian Medical and Dental Association (ICMDA), said in his endorsement of the book: "Professor Lennox brings his deep grasp of science and his passionate Christian faith together to reflect on our frightening predicament. This profound but easily accessible book does not claim to have all the answers but certainly addresses the big questions and will help you make sense of the challenges we all face together."
EVP Publishing at TGBC, Carl Laferton, added, "I cannot think of a voice better than Dr. Lennox's to speak into this confusing situation. This short book will have a deep impact both on Christians, in pointing us back to the truths of the gospel to give us confidence; and on those who do not yet believe, in helping them to see that the Christian faith offers real hope in difficult times."
About John Lennox:  John Lennox is an Emeritus Professor of Mathematics at the University of Oxford and Emeritus Fellow in Mathematics and the Philosophy of Science at Green Templeton College. He is also an Associate Fellow of the Said Business School and an Adjunct Lecturer for The Oxford Centre for Christian Apologetics. He has been part of numerous public debates defending the Christian faith against well known atheists including Richard Dawkins, Christopher Hitchens and Peter Singer.
About The Good Book Company:  Founded in 1991, The Good Book Company (TGBC) is an international Christian publisher. Their Bible studies, books, devotionals, videos, tracts, evangelistic courses, and training materials are used throughout the English-speaking world, and in translation in over 35 languages worldwide. Everyone at TGBC is passionate about the Lord Jesus, His word, His church, and His gospel of grace. They create and publish biblical, relevant, and accessible resources that will encourage Christians to keep going, keep growing, and keep sharing their faith
Media contact: Eleanor Elms eleanor.elms@thegoodbook.com