"Only One Life" book launch at Museum of
the Bible speakers series
Museum Co-Founder Jackie Green and Daughter Lauren McAfee Discuss New Release on Women and Legacy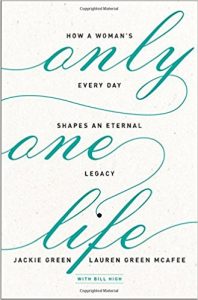 WASHINGTON, May 24, 2018—Jackie Green, co-founder of Museum of the Bible, and her daughter Lauren Green McAfee want women to know that their lives and legacies matter. In Only One Life, Green and McAfee tell the stories of past and present world-changing women and encourage readers to play a unique and irreplaceable role in the story of the world by intentionally investing their time and talents in the people they meet every day. They examine 12 characteristics of legacy through profiling 36 women who have and are leaving remarkable legacies, including biblical figures such as Queen Esther, Ruth, Mary Magdalene and Hannah as well as more modern role models like Rosa Parks, Queen Elizabeth II, Florence Nightingale and Christine Caine.
Green and McAfee will launch their book at Museum of the Bible as part of the museum's regular speakers series. The hour-long program will be featured on Facebook Live atfacebook.com/museumoftheBible, and a book signing will follow.
WHAT
Museum of the Bible Speakers Series, Only One Life: How a Woman's Every Day Shapes an Eternal Destiny book launch
WHEN
Tuesday, June 5, 6 – 7 p.m. ET, 7 – 7:30 p.m. ET Book Signing
WHERE
Museum of the Bible (Gathering Room), 400 4th, Washington, DC 20024
COST
Free for museum members and those with a student ID as well as members of the press
$5 for the general public
About the Authors:
Jackie Green, co-founder of Museum of the Bible, is a full-time homemaker who relishes her roles of wife, mother to six children, mother-in-law and "Gigi" to four grandchildren. Married to Steve for more than 30 years, Jackie actively supports him in his role as president of Hobby Lobby and chairman of the board of Museum of the Bible.
Lauren Green McAfee is a speaker and writer with a heart to engage others with the Bible. While pursuing her graduate degrees in pastoral counseling and theology, Lauren worked at Museum of the Bible from its founding days until its opening. Today, she works at Hobby Lobby as a corporate ambassador and is also pursuing a Ph.D. in Ethics and Public Policy. Lauren and her husband Michael live in Oklahoma City, Oklahoma.
About Museum of the Bible
Museum of the Bible is an innovative, global, educational institution whose purpose is to invite all people to engage with the history, narrative and impact of the Bible. Admission to the museum is free with a suggested donation of $15 per person. A fly-through of the museum is viewable here.
Website | museumoftheBible.org  Twitter | @museumofBible