Officer commissioned with restoring order to
Ferguson in wake of Michael Brown shooting to publish 13 Days in Ferguson with Tyndale Momentum
Memoir with Behind-the-Scenes Look at Ferguson Protests Releases in August 2018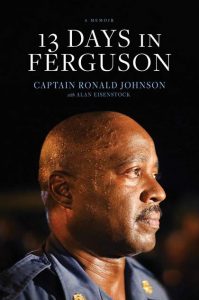 CAROL STREAM, Ill. (March 22, 2018) – It was a news story that captivated a nation. On August 14, 2014, five days after the fatal shooting of Michael Brown ignited race riots in the city of Ferguson, Missouri, Captain Ron Johnson of the Missouri State Highway Patrol was charged with the task of restoring peace between local police and angry protesters—many of whom had engaged in destructive and violent acts. In 13 Days in Ferguson (ISBN 978-1-4964-1657-5, HC, $25.99), Johnson provides readers with a behind-the-scenes look at the Ferguson protests and the instrumental role he played in addressing the anger and hurt of a damaged community. The book, cowritten by Alan Eisenstock, is scheduled for an August 2018 release.
The days and nights that followed Brown's death were the most trying of Johnson's life—professionally, emotionally, and spiritually. Officers in his own command called him a traitor. Lifelong friends stopped speaking to him. The media questioned his every decision. Alone at the center of the firestorm, with only his family and faith to cling to, Johnson persevered in his belief that the only way to effectively bridge the dived between black and blue is to—literally—walk across it.
In 13 Days in Ferguson, Johnson shares for the first time his view of what happened during the turbulent days following Michael Brown's death and the extraordinary impact those two weeks had on his faith, on his approach to leadership, and on shaping what he perceives to be the most viable solution to the issues of racism and prejudice in America.
Johnson's memoir will be supported by a comprehensive marketing campaign as well as a national media tour.
Captain Ronald S. Johnson was born and raised in St. Louis, Missouri. He holds a criminal justice degree and is a graduate of Northwestern University Traffic Institute of Police Staff and Command and a 2014 graduate of the Federal Bureau of Investigation National Academy. He is certified in police instruction and the development and implementation of assessment-center exercises for command-level staff officers. Captain Johnson and his wife, Lori, have been married for 29 years and have two adult children, Amanda and Bradley.
Alan Eisenstock is the author of 15 books, most recently Hang Time: My Life in Basketball (Houghton Mifflin Harcourt), written with NBA legend Elgin Baylor. He lives in Pacific Palisades, California.
Tyndale House Publishers, founded in 1962, is one of the largest privately held Christian publishers of books, Bibles, and digital media in the world. Tyndale Momentum, Tyndale's nonfiction imprint, is the publisher of many New York Times bestsellers and is known for integrity in building lasting personal relationships with authors and agents. Tyndale extends the ministry of its authors by contributing most of its profits to the nonprofit Tyndale House Foundation, which makes grants to help meet the physical and spiritual needs of people around the world. Tyndale was founded to publish Living Letters, which later comprised part of The Living Bible, a contemporary paraphrase of the Bible that became a global publishing phenomenon. Tyndale now publishes the Holy Bible, New Living Translation (NLT), the translation of choice for millions of people.