Oasis Family Media acquires Enclave Publishing
The speculative fiction house represents OFM's first step into print publishing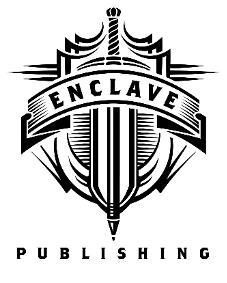 CAROL STREAM, IL, December 6, 2021—Oasis Family Media today announced the acquisition of Enclave Publishing, a leading independent publisher of Christian speculative fiction whose catalog includes 2021  Christy Award–winners Forsaken Island by Sharon Hinck and Mortal Sight by Sandra Fernadez Rhoads.
As of January 1, 2022, Enclave Publishing will be a division of Oasis Family Media, alongside Oasis Audio and its imprints, Paperback Classics and Hollywoodland Audiobooks.
Steve Laube, founder and publisher of Enclave, will remain the publisher and curator of the brand. Laube said, "We are truly excited about this opportunity. I have long believed that speculative fiction is unique in its ability to tell fantastic stories of philosophical and theological depth. This new partnership will give these books the support they need to reach new and, hopefully, ravenous readers."
Oasis Audio announced an exclusive audio publishing agreement with Enclave Publishing in September. The move to acquire Enclave in its entirety will expand Oasis Family Media's extensive catalog of audiobooks to include print editions for the first time in the company's history.
Oasis Family Media CEO Jonathan Morris said, "We at Oasis Family Media are thrilled to bring Enclave Publishing on board. For a while now, Oasis has considered expanding into the world of print and I am excited for the opportunity to do so alongside a team with whom we share a common vision. I believe that Enclave and Oasis are a perfect fit, and I look forward to working together to build something truly great."
Oasis Family Media has made several significant collection acquisitions in recent years under the direction of Oasis Audio Publisher and Oasis Family Media President Steve Smith, including an exclusive master audiobook license with Edgar Rice Burroughs, Inc.
"Enclave will continue to do what they do best — science fiction, fantasy and steampunk stories told through a Christian lens," Smith said. "Enclave sets the standard for Christian speculative fiction. They bring incredible artistry and imagination, and we look forward to bringing these stories to an even broader audience."
Enclave Publishing print and audiobook editions will be available on all major platforms.
About Oasis Family Media


Oasis Family Media shares stories that spark wonder — from beloved classic tales to brilliant new adventures. OFM is home to Oasis Audio, one of the largest independent audiobook publishers in the United States, as well as two imprints: Paperback Classics and Hollywoodland Audiobooks. Oasis Audio is the exclusive audio publisher of the complete Edgar Rice Burroughs Authorized Library. The full OFM catalog comprises more than 1,700 titles, adding 200 new audiobooks annually. To learn more, visit oasisfamilymedia.com.
Contact: Steve Smith, ssmith@oasisaudio.com, (630) 668-5367 x 105