Oasis Audio honored with win at 25th annual
Audie Awards
How the Light Gets In takes top spot in Faith-Based Fiction/Nonfiction category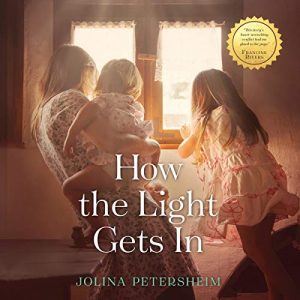 CAROL STREAM, IL, March 6, 2020 — Oasis Audio, a division of Oasis Family Media, came home with a prestigious win at the Audio Publishers Association's annual Audie Awards Gala this past Monday evening. The publisher's production of How the Light Gets In (Tyndale, 2019), written by Jolina Petersheim and narrated by Tavia Gilbert, received top honors in the Faith-Based Fiction / Nonfiction category. A second Oasis title, Breathe Again (Revell, 2019), written and read by Niki Hardy, was a finalist in the same category.
Winners were announced March 2 at the 25th annual Audie Awards Gala held at Guastavino's in New York City. The event, which recognizes the year's most distinctive audio publishing work, is frequently called the "Oscars of spoken-word entertainment." This year, the Audies saw more than 1,300 submissions in 24 categories.
Steve Smith, president and publisher of Oasis Family Media, said that he is "honored and pleased" with the distinction.
"This is only the second year that faith-based fiction and nonfiction — two very broad individual genres — were combined into a single category, making the competition exceptionally stiff. Of the five total finalists in the Faith-Based Fiction/Nonfiction category, two titles were Oasis Audio publications," said Smith.
"We have decades of audiobook production experience under our belt. We shoot for excellence with every title we produce — and it shows. We work with the best narrators, the best engineers. This award validates my team's commitment to producing to the highest caliber."
This is the second Audie win for narrator Tavia Gilbert, who has been nominated 10 times.
Oasis Audio was a finalist for two Audie Awards in 2019, including Audiobook of the Year. Both nominations recognized the company's production of Maxwell King's The Good Neighbor: The Life and Work of Fred Rogers, narrated by LeVar Burton.
About Oasis Audio
Oasis Audio began publishing inspirational and self-help audio titles in 1996. Over the years, the product selection expanded to include Bibles, non-fiction, fiction, children's and business audio titles. Today, Oasis Audio is the largest independent Christian and inspirational audiobook publisher in the United States. Oasis Audio is a division of Oasis Family Media. To learn more, visit oasisaudio.com
MEDIA CONTACT:  Julie Smith, Marketing Director, Oasis Audio, julie@oasisaudio.com  847-293-2994