NYT bestselling author Jefferson Bethke releases new book
JEFFERSON BETHKE HIGHLIGHTS WAYS PEOPLE CAN RECLAIM THEIR LIVES 
"TO HELL WITH THE HUSTLE" RELEASES OCT. 15, AVAILABLE FOR PREORDER NOW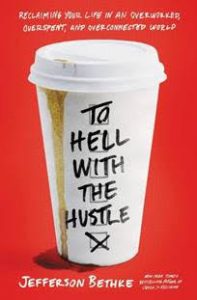 (August 12, 2019) –
According to
New York Times
bestselling author
Jefferson Bethke
,

 
the hustle is killing us. It's sapping us of meaning, purpose, and emotional and spiritual health.
In his groundbreaking new book,
"To Hell with the Hustle:

 

Reclaiming Your Life in an Overworked, Overspent, and Overconnected World,"

 
Bethke provides readers with helpful ways they can shift their focus from the hustle of overconnectivity to living a life that's full of purpose and meaning. The title will release October 15, 2019 via Thomas Nelson and is available now for 
preorder
.
In "To Hell With The Hustle," Bethke offers fresh insight about how millennials are so driven towards achieving a high level of success, that this generation is facing burnout, depression and loneliness in record numbers."
Our culture makes constant demands on all of us," says Bethke. "Do more. Accomplish more. Buy more. Post more. Tweet more. And in following those demands, we have indeed become 
more
–more anxious, more tired, more hurt, more depressed, more frantic. What we are doing isn't working because we have forgotten the fundamentals that make us human, the things that anchor our lives, providing us with roots and meaning."
In this highly-anticipated book, Bethke delivers an important wake-up call to resist culture and embrace the slowness of life as depicted in the biblical model of Jesus Himself. He encourages readers to stop 
doing
 and start 
becoming
 by proactively setting up boundaries in their lives and cultivating disciplines within them. Bethke reveals that what the world teaches us to avoid at all costs–things such as silence, obscurity, solitude, and vulnerability–are the very things that can give us the meaning, depth, order, and the richness we are truly looking for.
"
To Hell With The Hustle"
is for anyone who wants to get off the soul crushing treadmill that's driving them to lead lives that that are physically and emotionally toxic, and take the path that offers stronger relationships and greater well-being in every area of their lives.
For more information, please visit:
Website:
https://jeffandalyssa.com/
Facebook:
fb.com/jeffersonbethkepage
Twitter:
twitter.com/jeffersonbethke
Instagram:
instagram.com/jeffersonbethke
YouTube:
youtube.com/bball1989
About Jefferson Bethke

Jefferson Bethke is the 
New York Times
 bestselling author of "Jesus > Religion and It's Not What You Think," who became an overnight YouTube sensation when his four-minute video,
Why I Hate Religion, But Love Jesus
, went viral across the digital world, garnering some six millions views within three days of its release. Since then, the movie short has been viewed by more than 34 million people around the world. Bethke and his wife, Alyssa, host 
The Real Life Podcast 
each week as well as help run Family Teams, an online initiative to help families flourish. They live in Maui with their daughters, Kinsley and Lucy, and son, Kannon.
About Thomas Nelson

Thomas Nelson, part of HarperCollins Christian Publishing, Inc., is a world-leading provider of Christian content and has been providing readers with quality inspirational product for more than 200 years. The publishing group provides multiple formats of award-winning Bibles, books, gift books, cookbooks, curriculum and digital content, with distribution of its products in more than 100 countries. Thomas Nelson is headquartered in Nashville, TN. For additional information, please visit
www.thomasnelson.com
.
For media inquiries, please contact:
Rogers & Cowan Tracy Cole, 615.568.2988, tcole@rogersandcowan.com
---
"Jefferson

 

will help you understand why the hustle can seem so alluring, show you how to avoid the traps it's created in our culture, and find true joy chasing after Christ instead."


–         

 

Craig Groeschel

, pastor of LifeChurch and

 

New York Times

 

bestselling author

"To live like Jesus, to work and rest like Jesus, is the desire of so many hearts (mine included), and Jeff is leading us toward that life."


–         

 

Annie F. Downs

, bestselling author of

 

"100 Days to Brave"

 

and host of

 

That Sounds Fun

 

"This book will challenge you to live a life that relies on God."


–         

 

Jennie Allen

, author of

 

"

Nothing to Prove

,"

 

founder and visionary of IF:Gathering

 LOS ANGELES