Nord Compo announces
The Future of Publishing podcast series
Publishing industry leaders, starting with John Ingram, sound off on the future of the book business in this new podcast series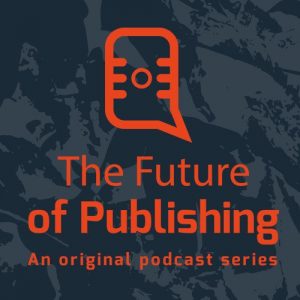 Nord Compo is partnering with Publishers Weekly and Book Buddy Media to produce The Future of Publishing, a podcast series featuring interviews with leaders from across the international publishing industry. Conceived by Nord Compo's Arnaud Lecompte, director of digital and international business development, and hosted by Larry Bennett, executive director, North America, these interviews will look ahead to developments likely to shape publishing over the next three to 10 years.
"Our goal is to have a wide diversity of opinions and perspectives from industry leaders across multiple disciplines," Bennett says. "Accordingly, our initial interviewees include leaders in e-book publishing and distribution, the top distributors to mass and traditional markets, the preeminent digital print provider, and a leading children's book publisher. In future podcasts, we intend to include thought leaders from complementary disciplines that influence book publishing, including content creation and technology."
The Future of Publishing will explore the publishing industry broadly, extrapolating from today's trends and imagining what will be important to the book business throughout the world in the coming years. The goal of the series is to enable industry leaders to share insights, experiences, and useful information and thereby stimulate conversation among industry professionals.
Nord Compo is a leading supplier of prepress composition, digital, and editorial services for publishers. With 50 years of experience and more than 500 full-time employees, Nord Compo services many industry leaders, including Elsevier, Hachette, Ingram, Pottermore, Princeton University Press, Sourcebooks, and Springer. Seattle-based Book Buddy Media, which handles podcast production for The Future of Publishing, is a major supplier of high-quality audiobooks specializing in, but not limited to, the K–12 market.
"Our once-staid industry has been going through major changes since the 1950s, when a majority of trade books were sold through department stores like Macy's," Bennett says. "The pace of change seems to be accelerating in this century, with the advent of the internet, e-books, digital printing, and industry consolidation. We thought it would be interesting to get industry leaders' perspectives on where we are heading."
The debut podcast, featuring a conversation with Ingram Content Group chairman John Ingram, launches today. Visit publishersweekly.com/nordcompo.