New York Times bestselling author Mike Huckabee
to release new legacy book with Worthy Publishing
in Fall 2018
"A person who has no standard to live by other than the culture of the moment is a person whose personal principles might as well come from the latest public opinion polls."  – Mike Huckabee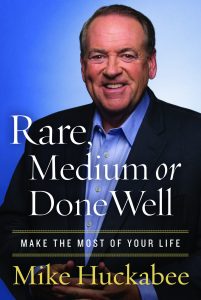 (NASHVILLE, Tenn.) June 2018 – Former Governor Mike Huckabee, TV host and bestselling author, is one of the most trusted conservative voices in American politics today. Now, Worthy Publishing is pleased to partner with him in releasing a new book this fall.
In Rare, Medium or Done Well: Make the Most of Your Life (Nov. 2018, $24.99, ISBN 9781683973027), Huckabee challenges our contemporary culture's transient ideals of "living in the moment," and instead shares how to live a life that will continue to resonate long after we're gone.
Throughout the book, in his unique conversational style, Huckabee calls on his own vast experience and life lessons to guide readers on how to be an example that others will follow going-forward.
"Mike Huckabee continues to be a prominent and influential voice in the national debates affecting our nation," says Byron Williamson, President and Publisher, Worthy Publishing. "He has stood up for his beliefs and has encouraged others to do the same, so we're extremely honored to partner with him at this point in his distinguished career. He shares his important message about leaving a legacy for future generations."
Mike Huckabee served as the governor of Arkansas from 1996-2007 and as lieutenant governor from 1993-1996. Before entering politics, he was ordained as a Southern Baptist minister and worked for twelve years as a full time pastor. He recently started a political action committee, HuckPAC, to extend his grassroots movement. He and his wife, Janet, have three grown children and live in North Little Rock, Arkansas.
Worthy Publishing Group is a privately held, independent voice in inspirational publishing, based in Nashville, Tennessee. Worthy includes four imprints: Worthy Books publishes inspirational works addressing faith and culture, Christian living, fiction, biblical studies, and specialty Bibles; Museum of the Bible Books is a partnership between Worthy and the Museum, publishing books that reveal the history, narrative, and impact of the Bible; Ellie Claire produces beautifully crafted journals, gifts, and paper expressions; and WorthyKids/Ideals creates colorful, interactive children's books, including VeggieTales and Berenstain Bears, for ages 1 to 9.
Contact:  Nicole Pavlas, Director of Publicity, Worthy Publishing Group
615.772.7265  nicolep@worthypublishing.com