New York Times bestselling author
Jerry Jenkins to release new Fiction series
with Worthy Publishing in Fall 2018
"Jenkins is a consummate novelist; his plotting is nicely sneaky, his dialogue crackling." – Publishers Weekly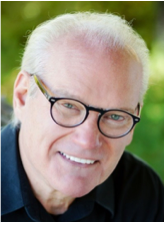 (NASHVILLE, Tenn.) February 1, 2018 – Jerry B. Jenkins' books have sold more than 70 million copies, including the phenomenal Left Behind series, minting him as one of the best-selling novelists of his generation. Now, Worthy Publishing is pleased to announce he will be releasing a new fiction series slated for this fall.
Jenkins' literary contribution to the world of publishing is remarkable – having penned more than 190 books, two-thirds of those novels, including 21 New York Times bestsellers with seven debuting at #1. He is one of the most creative and commercially successful writers of our time.
"Jerry's influence on Christian publishing can't be exaggerated," says Byron Williamson, President and Publisher, Worthy Publishing. "We're extremely honored to have the opportunity to partner with Jerry at this point in his distinguished career, sharing this inventive new series of books with the world."
The new series, The Dead Sea Chronicles, tells captivating stories combining provocative current events with ancient adventure, spiritual warfare, and biblical archeology with Da Vinci Code-like flair. The first book in the series, titled Dead Sea Rising, introduces readers to a female New York-based PhD in ancient Near East history, who uncovers antiquities mysteriously tied to biblical patriarch Abraham. Her explosive find threatens to upend everything ever thought about Jewish and Arab relations.
Jenkins owns the Jerry Jenkins Writers Guild coaching thousands of aspiring writers in both fiction and nonfiction.
Jerry B. Jenkins' books have sold more than 70 million copies. Twenty-one of his titles have reached the New York Times, USA Today, Publishers Weekly, and Wall Street Journal best-seller lists. The phenomenally best-selling Left Behind series inspired a movie starring Nicolas Cage. Jenkins has been featured on the cover of Newsweek and his writing has appeared in Time, Reader's Digest, Guideposts, and dozens of other periodicals. He and his wife, Dianna, have three grown sons and live in Colorado. He owns the Jerry Jenkins Writers Guild (www.JerryJenkins.com).
Worthy Publishing Group is a privately held, independent voice in inspirational publishing, based in Nashville, TN. Worthy includes five distinct imprints: Worthy Books publishes inspirational works addressing faith and culture, spiritual growth, biblical study, fiction, and specialty Bibles; Museum of the Bible Books is a partnership between Worthy and the Museum, publishing books that reveal the history, narrative, and impact of the Bible; Ellie Claire produces beautifully crafted journals, gifts, and paper expressions; Worthy Inspired publishes felt-need, inspirational and devotional books; and WorthyKids/Ideals creates colorful, interactive children's books, including VeggieTales and Berenstain Bears, for ages 2 to 10.