New York Times bestselling author Francine Rivers
and American Idol's Danny Gokey share masterpiece inspiration
Rivers and Gokey meet at K-LOVE event, and share about Ephesians 2:10 as the inspiration for their work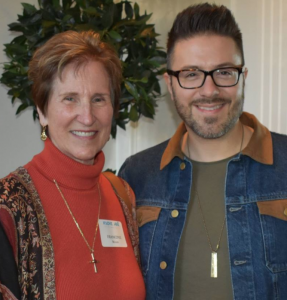 Carol Stream, Ill.—February 14, 2018—On February 12, beloved and bestselling author Francine Rivers traveled to a K-LOVE event in her hometown of Pleasanton, California, to meet Christian recording artist Danny Gokey. Rivers is a fan of Gokey's and, beyond that, was also interested in meeting the artist who shares the same inspiration for their respective recent projects.
On February 6, Rivers released her latest novel, The Masterpiece, a probing tale that reminds us that mercy can shape even the most broken among us into an imperfect yet stunning masterpeice. In this return to her romance roots, The Masterpiece is a riveting and highly anticipated story of redemption, grace, and love.
Like Rivers's new novel, one of Gokey's latest song releases, "Masterpiece," is inspired by Ephesians 2:10—"For we are God's masterpiece. He has created us anew in Christ Jesus, so we can do the good things he planned for us long ago." As a fan of Gokey's, Rivers didn't pass up the chance to meet him and share their inspiration stories. While attending the  K-LOVE event, Rivers shared that they "both got a chuckle" out of their similarly inspired projects—her novel The Masterpiece and his song, "Masterpiece."
In her new novel, the widely acclaimed Rivers delivers big-canvas storytelling at its finest, bringing this promise from Scripture to life by employing two broken characters with gritty and difficult pasts to demonstrate the healing work of a Savior.
In a YouTube video about the story behind Gokey's song "Masterpiece," he shares that one thing everyone has in common is the pain we'll experience along the journey of life. But he reminds listeners of the hope we have in Christ: "When you come to Christ, you are a new creation. . . . You are a masterpiece. Do not give up; keep moving forward. The pain will turn into triumph."
Consistent with her body of work, brokenness, healing, and redemption are prevalent themes of Rivers's novel The Masterpiece. She shares that her goal in writing this novel is for "readers to know that no matter who you are, where you come from, [or] what you've done, when you accept Jesus, God will make you into His masterpiece."
In The Masterpiece, successful LA artist Roman Velasco appears to have everything he could possibly want—money, women, fame. Only Grace Moore, his reluctant, newly hired personal assistant, knows how little he truly has. The demons of Roman's past seem to echo through the halls of his empty mansion. But Grace doesn't know how her boss secretly wrestles with those demons: by tagging buildings as the Bird, a notorious but unidentified graffiti artist—an alter ego that could destroy his career and land him in prison.
Like Roman, Grace is wrestling with ghosts and secrets of her own. After a disastrous marriage threw her life completely off course, she vowed never to let love steal her dreams again. But as she gets to know the enigmatic man behind the reputation, it's as if the jagged pieces of both of their pasts slowly begin to fit together . . . until something so unexpected happens that it changes the course of their relationship—and both their lives—forever.
Trade reviews of The Masterpiece have been consistently strong. Booklist said, "Readers will marvel at Rivers's storytelling arc encompassing the reconciliation of gritty past misdeeds with the work in progress of a life of forgiveness.
" Kirkus added that Rivers ". . . deftly threads Roman's and Grace's lives together as they tiptoe around their emotional scars," assuring that "fans of Christian romance will delight in this tale of salvation through love."
Publishers Weekly concurred, saying, "The tale will have her long-standing fans hooked. And the fully formed Roman will likely garner her new ones." Romantic Times designated The Masterpeice as a Top Pick, calling it
". . . an amazing, beautifully written tale to be savored and pondered and shared with others."
New York Times bestselling author Francine Rivers has published numerous novels—all bestsellers—and she has continued to win both industry acclaim and reader loyalty around the globe. Her Christian novels have been awarded or nominated for many honors, and in 1997, after winning her third RITA Award for inspirational fiction, Francine was inducted into the Romance Writers of America Hall of Fame. In 2015, she received the Lifetime Achievement Award from American Christian Fiction Writers (ACFW). Francine's novels have been translated into over 30 different languages, and she enjoys bestseller status in many foreign countries. She and her husband, Rick, enjoy spending time with their children and grandchildren. Visit Francine's website at www.francinerivers.com.
The Masterpiece by Francine Rivers
ISBN: 978-1-4964-0790-0 | Hardcover: $25.99 | Available now
Tyndale House Publishers, founded in 1962, is the world's largest privately held Christian publisher of books, Bibles, and digital media. Tyndale has published many New York Timesbestsellers. The largest portion of its profit goes to the nonprofit Tyndale House Foundation, which makes grants to help meet the physical and spiritual needs of people around the world. Tyndale was founded to publish Living Letters, which later comprised part of The Living Bible, a contemporary paraphrase of the Bible that became a global publishing phenomenon. Tyndale now publishes the Holy Bible, New Living Translation (NLT), the translation of choice for millions of people.
Contact: Katie Dodillet, katiedodillet@tyndale.com, 630.784.5275