New podcast connects women to each other and to the loving, healing and forgiving God
God Hears Her Launches May 11 with Hosts Elisa Morgan and Eryn Eddy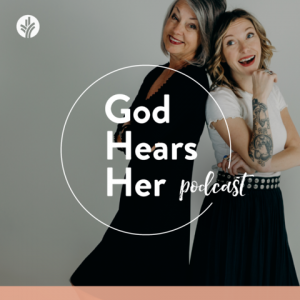 Grand Rapids, MICH., May 11, 2020 – God Hears Her is a new podcast for Christian women seeking friends to come alongside them in the hurts, joys, and struggles of the everyday. The podcast explores the stunning truth that God hears you, God sees you, and God loves you because you are His. Listeners will find faithful, authentic hosts and guests who share the wisdom of a God who can carry all their worries.
This community of women will connect weekly for a 25-minute episode to learn, to laugh, and to let you know that you are not alone. Launching May 11, Season One welcomes several of America's leading spiritual thought leaders, including Margaret Feinberg and Philip Yancey, into the conversation. 
The God Hears Her podcast brings together hosts Elisa Morgan, co-host of the nationally syndicated radio program Discover the Word and former president of MOPS International, and Eryn Eddy, founder of the lifestyle clothing brand So Worth Loving and an influencer with more than 300,000 social media followers. Throughout the podcast, Eddy and Morgan bravely share their personal stories and welcome guests to do the same, offering hope and encouragement to listeners.
Morgan had a difficult childhood. After her parents divorced, Morgan felt responsible and took care of her single mom who struggled with alcoholism. As an adult, she was on a quest to have the "perfect family." The Morgans were unable to have biological children, and they waited five years for their first adoption. During her 20-year presidency at MOPS International, Morgan's son struggled with substance abuse and her 16-year-old daughter became pregnant.
"It felt like my second family fell and broke," Morgan says. "But God has shown me that brokenness is nothing to be ashamed of. God's people are broken, and we need to say so. God can use us far more after we've been broken."
Eddy began her lifestyle clothing brand So Worth Loving as a refuge. She needed to be present with other people's stories before she could be truly present with her own.
"Divorce broke me," said Eddy. "My heart had to be shattered in order to see the hole that God wanted to fill all along. I had resisted accepting or believing that God could love me so recklessly and beautifully. The enemy watches our vulnerabilities and uses his findings against us. But God always brings beauty back in."
In addition to the weekly podcast, God Hears Her is an online community of women who love Jesus and want to share His message through written resources, everyday inspirations, and Scripture. This collection proclaims to women, "God is with you, God is for you, and God hears your heart's cry!"  Visit GodHearsHer.org to learn more.
About Elisa Morgan
Elisa Morgan (MDiv) was named by Christianity Today as one of the top fifty women influencing today's church and culture. She speaks internationally, writes for the Our Daily Bread Ministries Devotional and co-hosts the nationally syndicated radio program Discover the Word and the podcast God Hears Her. Elisa has authored more than twenty-five books including The Beauty of Broken: My Story and Likely Yours Too. For twenty years, Elisa served as CEO of MOPS International and now is president emerita. She serves on the board of Denver Seminary and her blog reaches thousands. ElisaMorgan.com
About Eryn Eddy
Eryn Eddy is the founder and CEO of So Worth Loving, a lifestyle clothing brand bridging the gap
between not talking about self-worth and talking about it. Since starting in 2011, Eryn has grown her company to include customers in all fifty states and in thirty countries. Eryn and her work have been featured on CNN and MSNBC, as well as Southern Living and O, The Oprah Magazine. Eryn is co-host of the God Hears Her Podcast and her debut book So Worth Loving releases January 2021. This creative has a pastime of singing with her music being featured on MTV, VH1 and the Oxygen Network. She enjoys oil painting, trail walks, and getting lost in a book. ErynEddy.com 
About Our Daily Bread Ministries
Our Daily Bread Ministries helps millions of people connect with God each day. For more than 75 years, our purpose has remained the same: to reach people with the life-changing wisdom of the Bible. Our mission is to make the life-changing wisdom of the Bible understandable and accessible to all. Our vision is to see people of all nations experiencing a personal relationship with Christ, growing to be more like Him, and serving in a local body of His family.